"We always have a huge smoked ham at Christmas. When my children were little I never slept Christmas Eve night, I always stayed up and cooked the Christmas ham, and waited on Santa. My GrannyN use to cook hers this way, the only thing I changed is I don't pre-bake the ham in brown paper bags like she did. Cook times vary from the size of the ham used. Our ham at Christmas is usually 25-30 pounds. Check the package wrap for suggested cook times for the pound ham that you purchased. My final cook times are approximate, it depends on the thermometer readings. I have also posted a great recipe for leftover ham."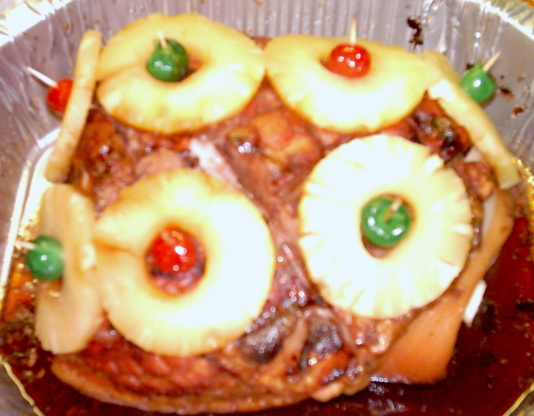 Grandmag's Baked Christmas Ham
1 recipe photo
READY IN:

5hrs

YIELD:

1

Ham

UNITS:

US
Directions
Wash ham throughly.
Cut diagional criss crossed lines one inch apart, one inch deep.
When you are finished the cut lines should look diamond shape.
This has to be done all around the whole ham.
Insert whole clove in each crossed section.
Try to push the clove down at least an inch into the meat.
Bake one hour covered, in very deep baking pan, at 275 degrees.
This is where my GrannyN would have the ham in a paper bag.
Drain off fat.
Bake another hour covered at 275 degrees.
Drain off fat.
Let ham sit uncovered while you warm the honey.
Pour honey over the ham, and cook uncovered for an hour at 300 degrees.
Remove from oven and drain.
Let sit until cool to touch, about 30 minutes.
The ham top should be a little sticky.
If not it's ok.
When cool, using your hands, pack brown sugar all over the top and sides of ham.
Pushing the sugar in the cut slices.
Push tooth picks through the cherries.
Place pineapple rings on top of ham using toothpick with cherries to hold in place.
Insert meat thermometer.
Mix together pineapple juice and cherry juice.
Divide.
Pour half of mixture in bottom of pan.
Cover, and bake for 2 hours at 350 degrees.
Check doneness.
Usually at this point the ham is usually done.
Last 30 minutes, Uncover and pour remainder of pineapple juice on top.