"This is really the ideal recipe for a granny! You mix the dry ingredients and keep in a tin at room temperature. Then, for the kiddies or the adults, you use 2 cups mix plus the wet ingredients, and quick as a wink you have a plateful of fresh brownies. I amended the recipe very slightly after Kat's Mom's helpful review, as her tweaks perfected this old recipe! (POSTSCRIPT: Read the last part of Kat's Mom's review: I thought her idea was brilliant! Thanks, Kat's Mom!!)"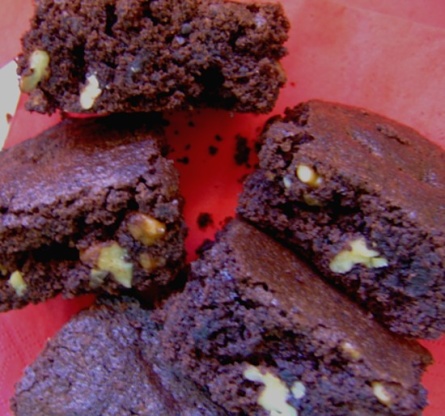 Granny's Brownies
1 recipe photo
Directions
In a large bowl, mix the dry ingredients very, very well using a whisk and turning over with a spoon. Make sure the mixture is smooth and without lumps.
Transfer to an airtight container and keep at room temperature in a cupboard.
Makes 10+ cups dry mixture.
To bake a quick batch:.
Heat oven to 350 deg F/180 deg Celsius. If using a convection/fan oven, lower temperature slightly.
Line an 8 x 8" (approx.) square baking dish or tin with foil or non-stick paper, and grease the foil/baking paper as well.
Shake the dry mixture in the tin to aerate, then sift 2 cups into a mixing bowl.
Combine with the butter, beaten eggs, just enough water* and vanilla, until well blended.
*Don't use 2 tablespoons water all at once, as you might not need it.
Use your own judgement here: because the dry mixture might have settled and become denser, your wet mixture could be a little dry. Add a teaspoon of water at a time and blend, adding a little more if necessary.
At the same time you might be using cup measures smaller than an 8 oz/250 ml measuring cup, in which case do not add the water until you have blended in the eggs and butter.
Then use just enough water: you want a firm, smooth, easily spreadable batter.
At this stage you add the nuts and chocolate bits, if used. Someone also suggested chopped marshmallows -- I haven't tried that.
The chocolate chips or grated chocolate plus nuts put this brownie in a higher league!
Spread in prepared pan, and bake about 35 minutes until a skewer inserted comes out clean.
Cool on a wire rack and cut into neat bars when cool.