"This melt-in-your-mouth coffeecake is the perfect treat. I've been eating this cake for as long as I can remember. It's a favorite at family get-togethers. It's been passed down from my great-granny who thought it up in her kitchen years ago. Perfect with a cup of coffee or glass of milk. To make sour milk use 1 TBSP vinegar with 1 cup of milk and let stand for 10-15 minutes, or use buttermilk instead."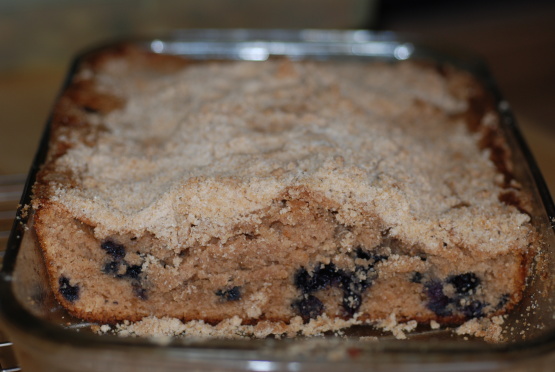 Granny's Crumb Coffeecake
2 recipe photos
Directions
Preheat oven to 350 degrees.
Mix flour, sugar, & salt. Cut in shortening. Save 1/3 cup of the crumbs for topping.
Put the rest of the ingredients in a mixing bowl and beat well.
Bake in square or rectangular baking pan for about 40 minutes or until top is golden brown (can take a little longer or shorter depending on the pan used and if you add berries). Could also use toothpick trick: insert toothpick into cake and if it comes out clean the cake is ready.