"I haven't tried this healthy (for a cupcake) recipe yet but I thought it sounded like an intriguing combination. It's from Chef Jennifer Iserloh, the "Skinny Chef". Apparently, the grapefruit lends a tender and moist texture but not a strong grapefruit flavour. Let me know what you think!"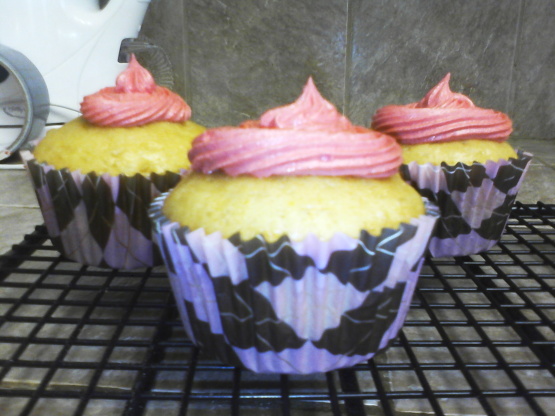 Grapefruit Cupcakes With Chai Icing
1 recipe photo
Directions
Preheat the oven to 350°F Line a 12-cup muffin tin with cupcake liners. In a medium bowl, sift together flour, baking powder, baking soda and salt. Set aside. In a large bowl, beat margarine and sugar with an electric mixer.
Beat in egg. Combine lemon extract, juice, zest, and buttermilk in a small bowl. Add half the buttermilk mixture and beat on low speed. Add half the flour mixture and beat just until combined. Repeat with remaining buttermilk and flour mixture. Divide batter evenly into the prepared cups.
Bake for 15-20 minutes, until the cupcakes spring back when the tops are pressed or until a toothpick tester comes out clean. Remove the cupcakes from the muffin pan and cool completely on a wire rack.
In a medium bowl, beat ingredients for icing until smooth. Once the cupcakes are cool, use a small spatula or butter knife to ice them. Store refrigerated in an airtight container for up to 5 days.