"You are in for a real treat when you try this, it's one of my favorite recipes for Greek baklava! it has brandy in the syrup which makes it special! You will need 3 pounds of pecans, roughly 1 pound of melted butter and whole cloves. It is not really necessary to insert a whole clove on top of each slice of baklava, I do so only on the holidays."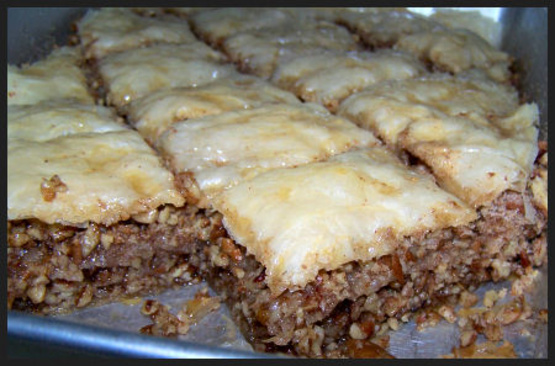 Greek Pecan Baklava
5 recipe photos
Directions
In a saucepan combine 2 cups sugar, 1 cup water, liquid honey, brandy, lemon juice and cinnamon stick; bring to a boil over medium heat stirring constantly, boil for about 1 minute (or until the sugar is completely dissolved) then remove from heat; cool syrup COMPLETELY.
In another bowl toss the chopped pecans with 1 cup sugar, cinnamon and cloves.
Brush 2 (13 x 9-inch) baking pans with melted butter.
Place 8 phyllo sheets in 1 pan, brushing EACH sheet with melted butter, then top with 2 cups pecan mixture.
Place 3 phyllo sheets over the pecan mixture, brushing each sheet with melted butter, then top with 2 cups of pecan mixture.
Repeat with 3 more phyllo sheets and then 2 cups pecan mixture.
Top with 6 phyllo sheets, brushing all but the top sheet with melted butter.
Repeat the procedure with remaining phyllo sheets and the pecan mixture for the second pan.
Using a sharp knife cut layers diagonally into 3/4-inch diamonds; gently brush with remaining butter.
Insert a clove in the center of each diamond.
Bake in a 300°F oven for 1 hour.
Remove from the oven and pour the prepared reserved syrup evenly over the baked baklava.
Cool completely in the pans on wire racks.
When cooled cut again diagonally; remove from pans and store in airtight containers at room temperature.