"This is perfect with poultry or any pork dish. If you want a serving for adults, add a dash of Calvados or some other co-ordinating liquer for good measure."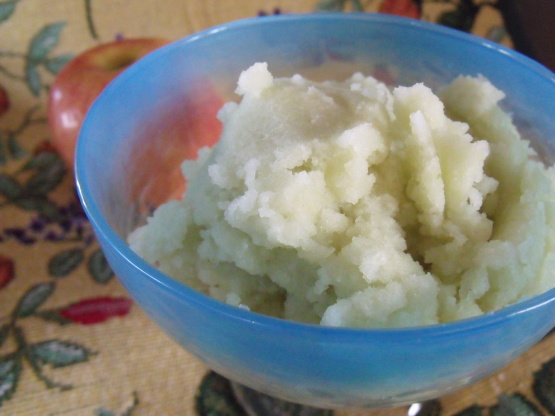 Green Apple Cider Ice
1 recipe photo
Directions
In a medium pan, boil the cider, uncovered, over medium heat until reduced to 1 cup, about 20-25 minutes. add the water, sugar, anise seed, and cinnamon.
Bring to a boil and boil over medium heat for 1 minute, or until sugar dissolves. Remove from heat, cover, and let cool.
Strain through a double thickness of cheesecloth and set aside.
Place the prepared apples in a food processor bowl, fitted with a steel blade. add the lemon juice and zest and puree till very smooth.
Add the 1/2 cup of Calvados or apple jack, salt, food coloring and the reserved cider mixture and blend. Pour the mixture into an ice cream maker and freeze according to manufacture's instructions. Alternately pour into a 10x10 metal baking pan and place in the freezer.
When ice crystals begin to form 2"all around the edges of the pan, remove and stir till smooth.
Return the pan to freezer and repeat this process two more times, or until a smooth consistency can be reached.
Pack into plastic containers and store in the freezer.
Remove about 10 minutes before to soften the ice slightly.
Scoop into wine glasses or parfaits. Top with 1 tbls Calvados, garnish with an apple slice.