"After canning 60 pints of basic green beans I was game for canning a new recipe. From Ball Blue Book of preserving. The amount is an estimate also the prep. and cook time is a way-off number, I just know when I'm canning-get ready to watch, wait (and sweat)"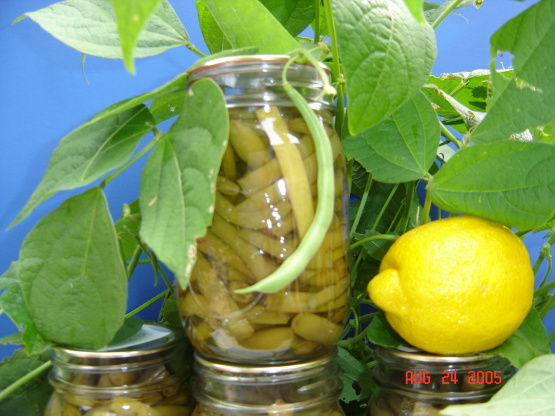 Green Beans With Lemon Peel
2 recipe photos
Directions
Wash and drain beans. Trim ends and break or cut beans into 1" pieces.
Cut peel from lemon; remove white pith. Cut lemon into narrow strips.
Boil beans 5 minutes. Pack hot beans into hot jars, leaving 1" headspace.
Add 1 or 2 pieces of lemon peel to each jar.
Ladle boiling water over beans, leaving 1" headspace. Remove air bubbles. Adjust 2 piece caps.
Process pints 20 minutes, quarts 25 minutes at 10 pounds pressure in a steam pressure canner.