"Every once in a while I just get one right. Right ingredients, right combination, right motivation. This is an amazing pork recipe that was inspired by a disturbingly simple Colonial Goose recipe I am fond of. I served with a green salad and some brown rice."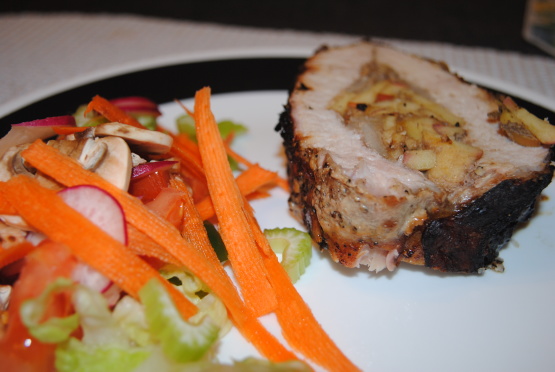 Grilled and Stuffed Colonial Pork Tenderloin
1 recipe photo
Directions
Cut a "pocket": lengthwise in the pork with a fillet knife. Widen from the inside so that the hole is no more than two inches long, taking care not to puncture the bottom or sides.
Rub garlic on inside, then fill cavity with Worcestershire. Stand upright and allow to "marinade" for ~30 minutes.
Half, then slice apple and onions into about 1/16" slices.
Reserve liquid marinade and stuff (you will be "shoving" this pork full -- don't think there is too much in there, there is not) with apples and onions.
Liberally apply pepper to each side and grill for 20 minutes per side at a constant temperature between 375-400 degrees. Watch for flares and move to top rack if necessary to prevent burning.
Allow to rest for ten minutes before slicing.