"Ready, Set, Cook! Reynolds Wrap Contest Entry. I love this recipe because it really reflects what my family and I love about of summer. Fresh flavors, vibrant colors, the sweet fruits of the summer harvest, juicy, succulent, and surprisingly filling, mixed with the clear, cool water taste of a white fleshed fish fillet, and the smokey flavor of apple wood smoked bacon. Grilled on charcoal, how can you go wrong? Yum! I am sad to see summer leaving but this, grilled on a warm autumn day will make reminisce of those wonderful days of BBQ's with friends and family. For a refreshing drink to to have along side, a freshly made lime margarita or a tall glass of iced tea, or for the children limeade. Complete the meal with pieces of grilled watermelon for a light and interesting dessert! I hope you enjoy!"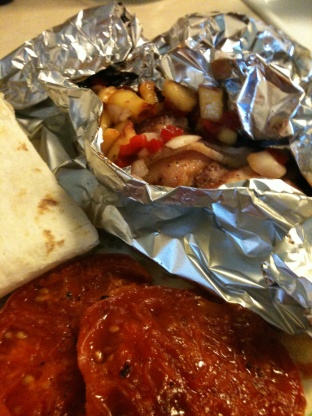 Grilled Bacon-Wrapped Tilapia & Fresh Fruit Salsa #RSC
1 recipe photo
Directions
For the Salsa: Find the butt of the peach and slice the peach all the way around the pit. Twist to release the flesh from the pit, and remove the pit from the other half of the flesh by prying it loose with a spoon. Do this with the other peach and set aside.
Mince the onion and the red bell pepper and pour them in a medium sized bowl. Chop the peach halves into bite sized pieces and pour in with the onion and pepper. Squeeze the juice from one of the lime halves over the peaches, onion, and peppers, followed by the honey, and season to taste with the salt and pepper. Mince the cilantro and add to taste. Mix thoroughly, cover with plastic wrap and refrigerate 30 minutes, at least.
For the Tilapia Fillets: Ready the grill with enough charcoal to burn around 375 to 425 degrees for at least 30 - 45 minutes. Accumulate charcoal to be sure that the heat is concentrated mostly in the middle.
Wrap the tilapia fillets in two slices of bacon a peice, drizzle with lime juice from the other half the sliced lime, to taste. Season to taste with pepper and garlic powder. Place the tilapia fillets onto a sheet of Reynolds Wrap Alluminum Foil. Fold the wrap in half, longway, fold one side over the other to create a seal. Turn and fold the open sides to create two more seals.
Place indirect from the heat on the charcoal grill, seal side up and grill until the fish fillets are flakey and the bacon is thoroughly cooked, about 30 to 40 minutes. Remove from heat and let set a moment before opening.
Top the fillets with fresh peach salsa and close the wrap to warm the salsa through but not to cook. Serve in the alluminum foil on a large plate with grilled sliced seasoned tomatoes and a grilled flour tortilla. Garnish with more peach salsa and a sprig of cilantro.
get the genius kitchen app.
Watch on your iPhone, iPad, Apple TV, Roku, or Fire TV.
Learn More