"I needed to conquer what promised to be an especially tough bottom round roast from a steer who lived his life chomping only grass & clambering up & down mountainous terrain. The overnight marination along bringing roast up to room temp before grilling did the trick. We like our beef rare, especially for leftovers to be used in sandwiches & salads, hence internal temp of just barely to 140 degrees F. You need to check on your roast frequently after initial 30 -40 minutes to reach but not exceed internal temp you prefer (140 - rare, 160 - medium (barely pink inside)). Serve with
Potato Gorgonzola Gratin
& green salad with balsamic dressing & balsamic marinated onions. Yum, yum, yum. Try to choose a roast that has a shell or rind of fat on one side - it'll rest longest on that side on the grill & not dry out the meat. *Cooking time probably too long but does NOT include long marinade."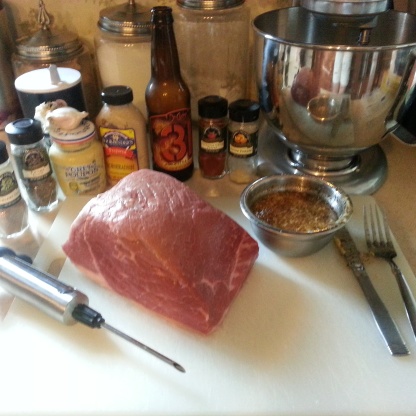 Grilled Bottom Round Roast
1 recipe photo
READY IN:

1hr 10mins

SERVES:

10

UNITS:

Metric
Directions
Mix beer, peppers, mustard, horseradish, thyme, garlic, bay leaves & nutmeg in plastic freezer bag.
Make several slashes through fat shell of roast.
Place roast in bag with marinade, express as much air as possible before sealing & refrigerate 12 - 24 hours.
On the day you plan to cook, let roast in marinade bag come to room temperature.
Preheat gas grill to 450°F.
Remove roast from marinade bag & place on plate fat shell up. Salt generously on fat side with Kosher salt.
Place on grill fat side down. Turn down heat to 350°F Let sear 5 minutes. Then turn roast & sear other sides - 5 minutes apiece. Keep lid down when not turning.
Decrease fire to 325°F & cook approximately 12 minutes a pound, periodically lifting lid to turn & test with meat thermometer until desired doneness reached.
Remove from grill, let rest 15 - 25 minutes, slice thin & serve. Enjoy.
get the genius kitchen app.
Watch on your iPhone, iPad, Apple TV, Roku, or Fire TV.
Learn More