"I was craving fried bologna. Came across an Egg, Cheese Bologna recipe and tweaked it a little bit to make it like a grilled cheese sandwich! Delicious!!"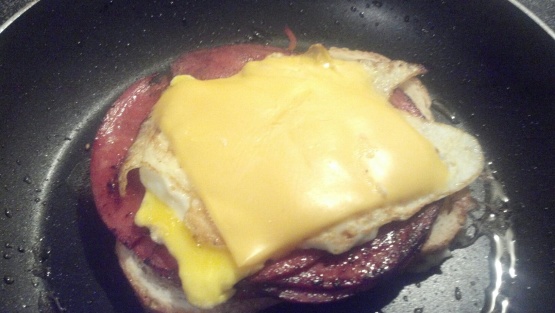 Grilled Fried Egg, Bologna and Cheese Sandwich
1 recipe photo
3

slices bologna, any brand will do. slit the sides in 4 places to fry without curling (or 2 or 4 up to you)

1

egg

1

slice American cheese

2

slices white bread (I used Italian style regular bread)

1

tablespoon mayonnaise

1

teaspoon butter
Directions
Prep:.
Slit the bologna in 4 places alond the side to 1/2 to middle (like a pinwheel) to prevent it from curling when fried.
Mayo one side of 2 slices of bread (I prefer to grill with mayo -- browns better than butter -- a trick I learned from a diner).
Add small pat of butter to grease a non-stick frying pan on medium. Add the bologna. Fry to your liking turning frequently as not to burn. Transfer to one piece of your bread on the un-mayo side.
Fry an egg. You will have plenty of grease to fry it inches Poke yolk. Flip. Add a slice of cheese to cooked side. Fry it through. Transfer to on top of bologna.
Put other slice of bread over. Mayo side out. Transfer to fry pan. Grill it like you would a grilled cheese sandwich. I put Frank's Red Hot cayanne pepper sauce as a condiment. (milder than Tabasco) -- use whatever condiment you want or leave it plain! Super YUMMY!