"From the June/July issue of "Everyday With Rachel Ray." These can be super fast and easy if you use premade polenta 'logs,' or make your own polenta cubes. (I like to make polenta with veggie stock instead of water and add all kinds of herbes, onions, garlic, diced sun dried tomatoes, etc. for extra pizzazz. After done cooking in a sauce pan, spread about an inch thick in a baking pan. Then chill and cut into cubes for this dish.) You are sure to thrill your vegetarian guests, and even the meat eaters will love this as a side. NOTE: after making a few batches this weekend, I find that the premade polenta holds together better if you either skewer the entire round (like a lollipop) or skewer the wedges so they lie flat (i.e. not through the big flat sides)."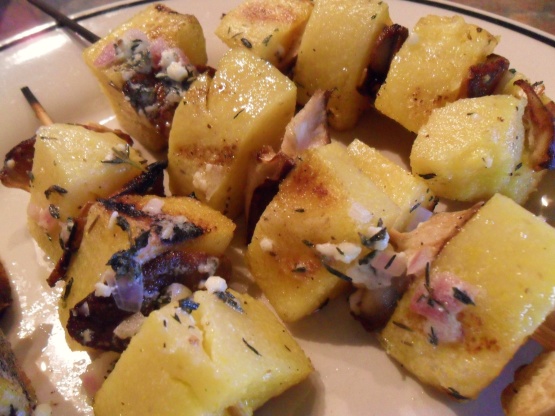 Grilled Polenta Skewers With Butter Basted Mushrooms
1 recipe photo
2

tablespoons butter, soft

1

tablespoon blue cheese, crumbles (can sub feta or omit)

1

shallot, finely chopped

2

teaspoons chopped fresh thyme

1

lb prepared polenta

12

shiitake mushroom caps
Directions
Preheat grill to high.
In a bowl, mix together butter, blue cheese, shallot and thyme.
Slice polenta log into1 1/2 inch thick rounds. Then cut each round into four wedges.
Thread 4 polenta wedges alternately with 3 shiitake mushroom caps onto skewers.
Brush with olive oil and place on grill.
Baste with butter mixture and grill until polenta is crisp, about 7 minutes.
Flip, baste some more, and grill another 7-8 minutes.
Enjoy!