"This is from the Grit Cookbook, featuring recipes from a famous vegetarian restaurant in Athens, Georgia. They slice through the center of each square and toast it, or butter and brown it in the skillet. You can add other veggies for additional color -- such as half a cup of chopped green onions!"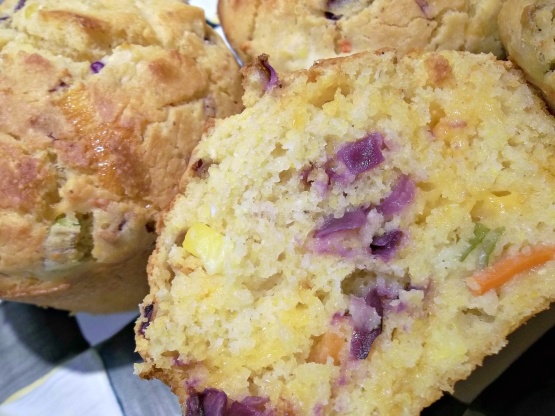 Groovy-Colored Grit Cornbread
2 recipe photos
Directions
Preheat oven to 425 degrees.
Grease a 9 x 13-inch metal baking pan (I have also successfully used a muffin tin which worked great).
Whisk together cornmeal, flour, baking powder, baking soda, sugar and salt in a large mixing bowl. Beat together eggs, buttermilk and melted butter and add to cornmeal mixture, stirring just until blended. Add vegetables and cheese and stir just until combined.
Spread evenly in prepared pan and bake for 35 minutes or until a knife or toothpick inserted in the center comes out clean.
Cool for 15 minutes in pan on a wire rack, and cut into squares.