Want more from Genius Kitchen?
Watch on your Apple TV, Roku, or Fire TV and your iOS, Fire, or Android device.
Learn More
"This is such a delicious recipe that does NOT translate well into English. I've seen translations of "cake-like fried milk balls in scented syrup" and seen people scratch their heads and go..what? Well, bear with the translations here, there's not too much of a western equivalency that I can think of. The name literally is gulab meaning rose and jamun- the only thing I can think of is a round fruit of the same name. (If anyone knows better let me know!) The synopsis...milk is boiled down into a thick, fudge-like consistency and mixed with the slightest bit of flour to form a dough, formed into balls, fried slowly in ghee (butter oil) and then when golden, put to soak in rose-scented sugar syrup. Wow! What's not to love? The consistency of the balls are tender and delicious, almost half cheese, half custard. You'll have to try and describe for yourself. I'm giving two methods for making the dough..the longer, traditional method and the easier, faster, thank-you-for-powdered-milk method. I'm also including a how-to for ghee, since frying the jamuns in ghee makes such a difference in taste. Oil...bleh :( Note: Work time is for the powdered-milk method and does not include ghee if you have to make it, which usually takes around 20 minutes. Also, does not include soak time."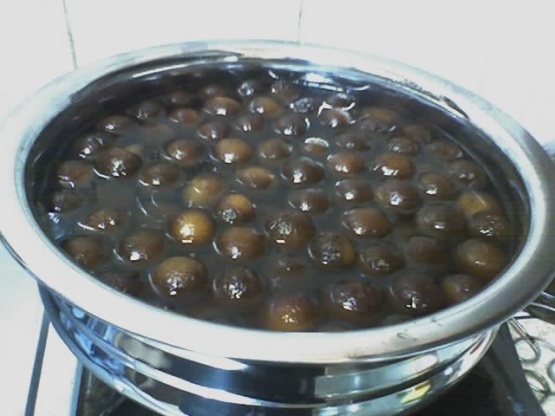 Gulab Jamun
5 recipe photos
Directions
To Make Ghee: Put the butter in a good saucepan and bring to a boil on medium heat. Then reduce to low. Now this is what will happen as the butter slowly simmers. Moisture will be evaporated out of the ghee. The white protein-solids from the butter will sink down to the bottom of the pan and slowly turn golden. A foam will rise to the surface, and as it cooks will form a bit of a crust. The butter will cook into a gold color as well, and it will have a slightly nutty smell. When the moisture is gone, the ghee is done. Decant the oil and save the delicious golden buttery bits on the bottom of the pan for toast, or mixed with veggies or potatoes. If you've used salted butter, you don't want to use it on toast- the salt will knock you out, but it's still good in potatoes or whatnot.
Making the Scented Syrup: Combine sugar and water and bring to a boil for 3 minutes. Remove from heat and add rose water or essence.
Traditional Method: Use a heavy-bottomed pan because the milk will stick. Use a non-stick pot if you have it. Boil the milk down over medium heat, while stirring, until it forms a paste. Add the flour and mix into a smooth paste. Oil your hands and roll them into uniform balls, place them onto a buttered plate and set aside.
Powdered-Milk Method: Combine the warm milk and ghee together. Mix the powdered milk and flour together and sprinkle slowly into the wet mix to form a dough. Oil your hands and form uniform balls (about 24) and set aside on a buttered plate.
Cooking the jamuns:
This is the most delicate part of the operation. Gentle, low heat is a must. Use a wok or karai for best results, with the ghee about 2.5-3 inches in depth.
Heat the ghee on low to 215 degrees.
Slip in the balls, one by one. They will sink. No touching at this point.
Gently shake the pan to move the balls and keep them from getting too brown on one side. After about 5 minutes they will begin to float. You will notice them getting bigger.
Now, use a wooden spoon or equivalent to gently agitate and keep them evenly browning.
The ghee will slowly get hotter as the balls cook.
After about 20 minutes, the ghee will have risen in temperature to around 245 degrees and the balls should be nice and golden.
Remove a ball and put it in the syrup. If it doesn't collapse after 3 minutes, remove the others and add to the syrup.
If it does collapse, fry for another 5 minutes and try again.
Let soak for 2 hours at least before serving.
Serve room temperature or warmed up.
Enjoy your gulab jamuns!
get the genius kitchen app.
Watch on your iPhone, iPad, Apple TV, Android, Roku, or Fire TV.
Learn More