"Haloumi and couscous cakes flavoured with lemon zest and parsley, and served with a simple refreshing baby spinach salad with slices of smoked salmon, or with your favourite salad. This recipe is from the November/December 2005 issue of the 'donna hay magazine: turn simple into special'. I haven't yet made these cakes; I just bought the magazine today! But for me this recipe had that instant must-be-tried-soon appeal! In posting the recipe, I have separated the cakes from the side salad (I have included details of the salad in the Directions) as I thought it would be more useful for those watching fat content or calories to know the nutritional information for the cakes. In posting the recipe, I have reduced the oil used in cooking the cakes from 2 tablespoons to 11/2 tablespoons. The oil could, of course, be considerably more reduced if the cakes were cooked in the oven on trays. Donna Hay is a well-known and popular Australian chef."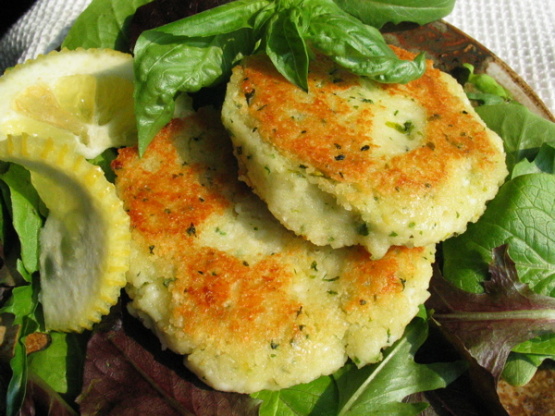 Halloumi and Couscous Cakes
2 recipe photos
READY IN:

15mins

SERVES:

4

UNITS:

US
Directions
Place the couscous, haloumi, lemon zest and parsley in a food processor and process for 1 minute or until the mixture resembles fine breadcrumbs; then shape 1/4 cups of the couscous mixture into round cakes.
Heat a non-stick pan over a medium heat; add the oil; cook the cakes in batches for 2-3 minutes each side or until golden; transfer the finished cakes onto a plate lined with absorbent paper towelling, and keep warm while you cook the remaining cakes.
SERVING SUGGESTION: Serve the haloumi and couscous cakes with baby spinach leaves and slices of smoked salmon with lemon slices. If you like a dressing on your salad, Donna Hay combines 2 tablespoons of white wine vinegar with 1 tablespoon of olive oil and tosses the smoked salmon slices and baby spinach leaves in the dressing to combine, and serves it with lemon wedges.
NOTES: Suggested quantities - in the original recipe - for the side salad: 7 ounces (200g) smoked salmon slices, 21/2 (70g) ounces baby spinach leaves. On Donna Hay's website - http://www.donnahay.com.au/ - is a conversion table and a list of commonly used ingredients - and what they are generally called in Australia and America. In many cases, I think we actually use what she has said is the American name and in some cases, the recipes on Zaar use what she has said is the Australian name! Curious! But some of these "translations" of terms and names could well be useful!