"This recipe is a Dairy recipe. Kosher law prohibits serving milk and meat at the same meal so these would make a great snack. Time listed doesn't account for proofing time."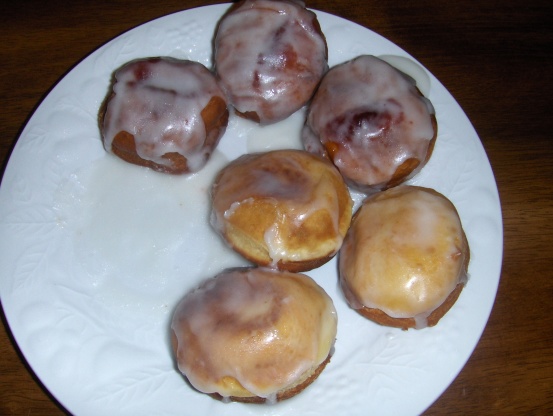 Hanukkah Sufganiyot (Dairy)
2 recipe photos
Directions
Dissolve yeast in 1/2 cup warm milk in a large bowl; let stand 5 minutes or until foamy. Add remaining 1/4 cup warm milk, granulated sugar, and next 5 ingredients (through egg); beat with a mixer at medium speed until blended (butter will not be completed melted).
Lightly spoon flour into dry measuring cups; level with a knife. Add 2 cups flour to yeast mixture; beat at medium speed until smooth. Stir in 1 cup flour to form a soft dough. Turn dough out onto a floured surface. Knead dough until smooth and elastic (about 8 minutes); add enough of remaining 1/4 cup flour, 1 tablespoon at a time, to prevent dough from sticking to hands (dough will feel sticky).
Place dough in a large bowl coated with cooking spray, turning to coat top. Cover and let rise in a warm place (85F), free from drafts, 1 hour or until doubled in size. (Gently press two fingers into dough. If indentation remains, dough has risen enough.) Punch dough down; cover and let rest 5 minutes. Divide dough into 16 portions, rolling each portion into a ball.
Place dough balls on a large baking sheet lined with parchment paper. Cover and let rise 45 minutes or until dough is doubled in size.
Preheat oven to 375°F.
Uncover balls. Bake at 375F for 14 minutes or until browned. Remove from pan; cool completely on a wire rack.
Make a pocket in each roll using the handle of a wooden spoon, pushing to but not through the opposite end. Fill with about 2 teaspoons jam, using plastic condiment bottle or a piping bag. Sprinkle rolls with powdered sugar.