"This still has egg and butter, but buttermilk helps lighten it up. Is low-carb, low saturated fat, low cholesterol, low sodium and even heart healthy according to realage.com . Great for healthier Eggs Benedict or served over steamed asparagus, green beans or even Brussels sprouts. Includes variations for Sauce Moutarde (with mustard) and Sauce Maltaise (with orange juice) as well as microwave reheating directions. From Eating Well."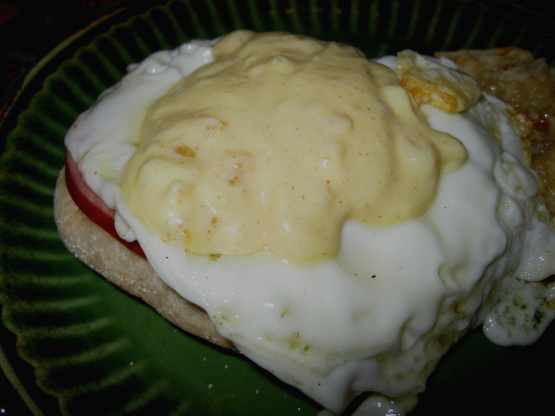 Healthier Hollandaise Sauce With Variations
1 recipe photo
Directions
Melt butter in a small saucepan over low heat.
Cook, swirling the pan, until butter turns golden, 30 to 60 seconds.
Pour into a small bowl and set aside.
Whisk 1/4 cup buttermilk, cornstarch, salt and cayenne (and mustard, if using) in a heavy medium saucepan until smooth.
In a small bowl, lightly beat egg.
Whisk egg and remaining 1/2 cup buttermilk into cornstarch mixture.
Set saucepan over medium-low heat and cook, whisking constantly, until mixture comes to a simmer (low boil).
Cook, whisking, for 15 more seconds.
Remove from heat and whisk in lemon juice (or orange juice, if using) and reserved golden butter.
Serve hot or warm.
MAKE AHEAD TIP:Cover and refrigerate for up to 2 days. Reheat in a microwave on High for 1 to 1 1/2 minutes, stirring once.