"A very healthy alternative to pasta salad for picnics or pot lucks. This recipe was given to me by Gail Johnston, my Broker. She ad libs it and I took liberties with the veggies I included. She adds dried fruit like cranberries or raisins, but I omitted those for this version. Her recipe also calls for black beans, I only had Garbanzos, so thats what I used. Again, ad lib with what you like. Enjoy!"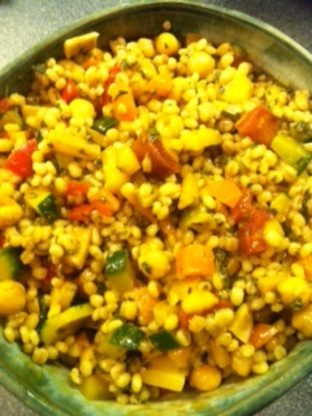 Healthy Fresh Veggie, Herbs and Barley Salad
1 recipe photo
1

cup pearl barley
2 1⁄2 cups water
1⁄2 teaspoon salt
1⁄4 cup extra virgin olive oil
1⁄2 cup fresh lemon juice

1

tablespoon paprika

1

teaspoon garlic powder
1⁄4 cup fresh oregano, Chopped
1⁄4 cup lemon balm, Chopped (or you can use any complimentary herbs)

1

(15 ounce) can garbanzo beans
1⁄2 cup broccoli floret
1⁄4 cup red bell pepper, Diced
1⁄4 cup yellow bell pepper, Diced
1⁄4 cup orange bell pepper, Diced
1⁄4 cup carrot, Diced
1⁄2 cup cucumber, Diced
1⁄2 cup zucchini, Diced
1⁄4 cup asparagus, Chopped (crisp steamed or blanched)

1

(15 ounce) can hearts of palm, Diced (or substitue Artichoke Hearts)

1

tablespoon balsamic vinegar
Directions
In a saucepan, bring Water and Salt to a boil and add Barley. Reduce to simmer until Barley is al dente and water is absorbed (30-40 minutes).
Stir in Olive Oil, Lemon Juice, Paprika, Garlic Powder, and Fresh Herbs.
Stir in Veggies, Beans and Hearts of Palm, incorporating well with the Barley mixture.
Stir in Salt and Balsamic Vinegar to season to taste.
Cover and refrigerate over night for best flavor.
Serve Chilled or Room temperature The Lemon juice is a natural preservative.