"Who doesn't love waffles with a great crunch from cornmeal, sweet tasty vitamins from apples, wholesomeness from whole wheat flour and flax, and a nice offset from spices? Mmm, these sure are nice! The egg substitute is courtesy of
Flax Vegan Egg Substitute
. It adds nutrients and eliminates bad fats. One thing worth noting, though, is be sure to grease your waffle iron well before making and in between waffles! Also, be careful to cut your apples very small or your waffle iron wont like it. These freeze BEAUTIFULLY!"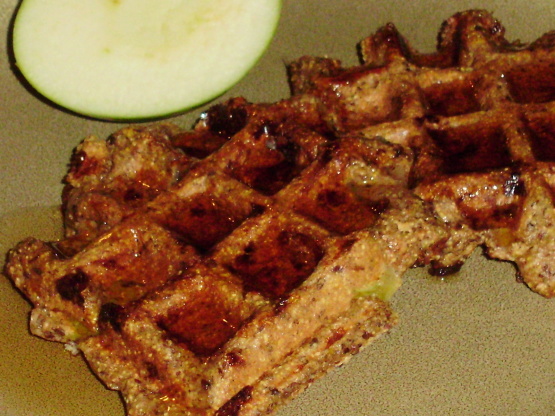 Healthy Low-Fat Whole Wheat Apple Spice Waffles
1 recipe photo
Directions
Pour ground flaxseed and water together into a sauce pan, stirring to kill the lumps, then leaving to simmer until it is thickened and gelatinous (like an egg). Refrigerate while mixing the other ingredients so it cools slightly before adding it to the wet ingredients (or sub for 1 egg + 1 egg white or yolk).
Whip the egg white until soft peaks form.
In a large bowl, combine cornmeal, whole wheat flour, baking powder, baking soda, spices, and salt.
In a separate bowl, whisk together yogurt, brown sugar, flax+water, water, and applesauce.
Add to dry ingredients, Stirring in the apples and whipped egg white.
Bake in waffle iron, then enjoy! OR completely cool these on a cooling rack, wrap in foil, and freeze. The mornings you want these just microwave them until not so frozen, then pop them in the toaster! They are lovely and crispy.