"Having just gotten in from the freezing cold outside, I was in a hurry to eat something warming, filling, healthy & tasty. I threw this together in the time it takes to boil the water and cook the pasta. It's really good for you, exceedingly low fat, low calorie, well balanced and whether you think about calories or not it's absolutely delicious. Was very filling too which was a bonus!"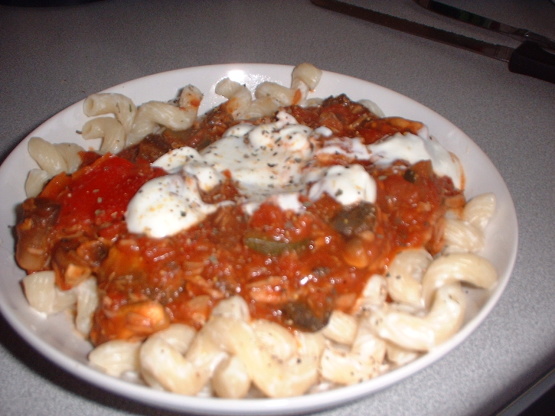 Healthy & Super Quick Tuna & Pasta à La Provencal
4 recipe photos
READY IN:

18mins

SERVES:

1

UNITS:

US
Directions
Note:
I was unable to enter one of the main ingredients - canned "Ratatouille" as it was not recognised. In the UK most supermarkets sell cans of Ratatouille (a delicious mix of tomato, courgette (zucchini), red peppers, aubergine (eggplant), red onion etc). It's very cheap, usually very low fat, very low calorie and very tasty. It makes an excellent base for quick and healthy meals. I don't know if it's commonly available in the USA. I guess if not it might be worth making up a large batch and freezing in small tubs for quick meals.
Fill a medium saucepan with enough fresh water to boil the pasta, squirt a little lemon juice (or salt) into it (to prevent pasta sticking) and place on a high heat to boil.
Measure out the pasta in a small bowl and put aside ready for when the water boils, and add the pasta when water is boiling. When the water gets back to boiling again, mentally note when the pasta will be done, reduce heat and stir occasionally.
Whilst waiting for water to boil, in a small saucepan, add 2/3 of a can of Ratatouille Provencale and half a can of chopped tomatoes (both according to taste and appetite). Add a generous half teaspoon of a medium-hot curry powder (such as Madras - to taste), a small squirt of american mustard, a dash of dried basil, a dash of dried garlic, and grind a little black pepper over it.
Weigh out (to taste) the quantity of mushrooms and rinse and shake dry each one as you break it into small chunks into the Ratatouille mix. When all the mushrooms are broken up and added, place the pan on a medium-high heat to warm through, reducing heat to simmer when hot and stirring occasionally.
Open the can of Tuna steak in brine and holding over sink, use the lid pressing it down to drain as much of the liquid as you can. Put to one side until about a minute and a half before the pasta will be done.
In a (microwaveable) pasta plate or large individual serving bowl, add a generous heaped tablespoon of low fat/fat-free yoghurt (or heavy (double) cream if you prefer and don't mind the calories), add a squirt of lemon juice (just under a teaspoon) and some fresh ground black pepper and stir together. Place plate in microwave and set for about 20 seconds on high but don't press start.
About a minute and a half before pasta is cooked add about 2/5 can of tuna (to taste) to the Ratatouille mix and stir very gently to mix.
When pasta is ready to be drained, press start on microwave, drain pasta, remove plate with hot yoghurt from microwave and put the pasta into it. Use a spoon to liberally coat the pasta with the soured yoghurt and sprinkle with a little black pepper / dried basil to taste.
Add the Tuna Ratatouille mix into the centre of the pasta, add a generous tablespoon of plain yoghurt and sprinkle with herbs/black pepper to garnish. You may prefer grated cheese/parmesan on top :).
Can be resized to serve more people very easily - varying quantities according to personal preferences.
Note regarding pasta:
You could use whatever pasta you prefer but I really like Serpentini (aka Cavatappi or Spirali) with fish. They're the hollow spirals of about the same thickness as maccaroni roughly an inch and a half long with ridges on the outside in case you know them by another name :) (Mine actually says "Spirali" on the packet - but I always thought Spirali was a different type altogether).
get the genius kitchen app.
Watch on your iPhone, iPad, Apple TV, Roku, or Fire TV.
Learn More