"This recipe comes from the "Wild Wild West Cookbook" I was given by my wonderful friend Tammie in the Bi-Annual Cookbook Swap 2009. Ive adapted it slightly, but will list my changes as options as it would be great otherwise also. This makes for a grainy, only slightly sweet, but super tasty bread, which can be enjoyed either with a savoury meal oron its own spread with butter and jam/honey. This is a very versatile recipe, which can be changed easily to suit the meal youre making. Please feel free to play with it. I could think of adding some vanilla or cinnamon to the batter for a more cakey version or using some chili powder and other spices for a hearty one."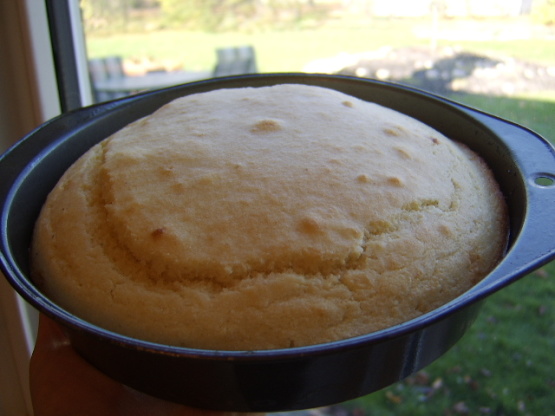 Heart Healthy Cornbread
4 recipe photos
1

cup cornmeal (I used half polenta half cornmeal)

1

cup unbleached flour (can use whole grain also)
1⁄4

cup oil

1

cup skim milk

2

egg whites (I used 1 whole egg)

1

tablespoon sugar (thats plenty for me, but if desired use up to 4 tbs)

3

teaspoons baking powder
1⁄2 cup corn kernel (fresh or canned or thawed) (optional)
Directions
Combine flour, cornmeal, baking powder (spices if using, see description) and sugar in a big bowl.
In a second bowl beat together egg whites (or egg), milk and oil. Stir into dry ingredients until just combined.
Stir in corn kernels if using and fill into prepared tin (either a 8 inch pie plate or muffin tins).
Bake at 400°F for about 20 minutes (until tester comes out clean).
Enjoy!