"This is a recipe from Danny Boone but i've tweeked it just a bit. Its very easy to make, but very time consuming. The dish is VERY filling so do not be discouraged by the portions, its extremy filling. I made it once for my mom on mother's day and a week later for my brother one what is now known as 'brother's day'... hope you enjoy it!"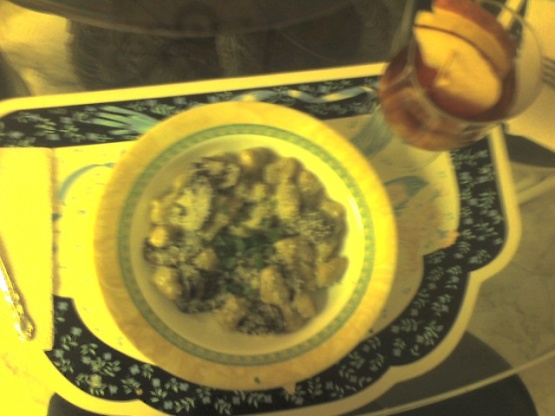 Herb Gnocchi W/ Mushroom Cream Sauce
2 recipe photos
READY IN:

3hrs 40mins

SERVES:

4

UNITS:

US
Directions
Place whole unpeeled potatoes into a medium saucepan with cold water on medium heat.
Bring the potatoes to a boil and cook for 20 to 25 minutes until soft enough to mash.
Check with a knife to see if potatoes are cooked through and tender (they'll still be a lil hard, you don't want them cooked all the way through).
Once ready drain the potatoes.
When cool enough to handle peel each potato and mash.
Add the 1/2 the flour, 1/2 the Parmesan, both egg yolks, all the nutmeg, thyme, salt and pepper
Mix into a doughy consistency adding more flour as needed.
Transfer dough to a well floured surface.
Roll pieces of the dough into a rope about 1/2-inch in diameter.
With a knife cut the rope into 1/2 to 3/4-inch-long pieces.
Flour the pieces as you cut them placing them on a floured baking sheet tray or lined with wax paper.
Place the gnocchi in the refrigerator covered with plastic wrap for 1 hour.
When ready to cook place gnocchi in boiling salted water for about 1 to 2 minutes (They will rise to the top when done).
Using a slotted spoon remove gnocchi from pot and place into ice water bath to stop cooking.
For the sauce
In a skillet add the butter and mushrooms and saute until nicely browned, about 5 to 7 minutes.
Add the white wine and reduce by half, about 5 minutes.
Add the cream and gently simmer for another 2 to 5 minutes.
Once the sauce has simmered, add the gnocchi (drain out the cold water)and cook for 2 minutes.
Garnish with fresh parsley and grated Parmesan (Parmesan will give you saltiness).