"I created this myself after looking at a few recipes... my attempt was to get more veggies and soy and make it lower calorie at the same time. I was happy with how this turned out... especially the cheese mixture. No one will know it is soy! The end result isn't as rich as the original version but still quite filling. If you aren't worried about calories you could double the mozzarella and use sausage with the ground beef. You will get 1-2 veggie servings per slice (depending on how much you count as a serving). I made this in 2 8x8 pans... make one now and freeze one for later. Or half the recipe. Also this could be made vegetarian by replacing the meat with a veggie alternative and made lactose free if you omit the parmesan and replace the mozzarella with rice cheese."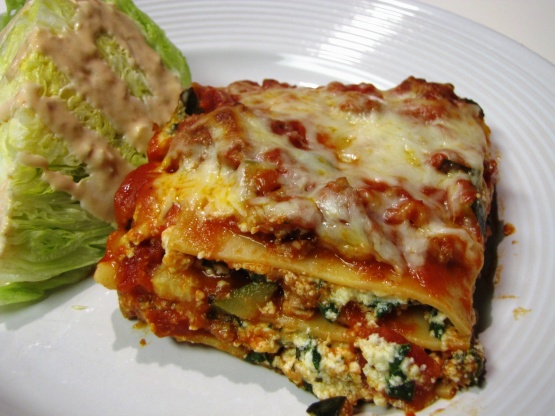 Hidden Delights Lasagna
1 recipe photo
Directions
Saute the onion, garlic and summer squash until slightly softened. I have found that if you watch it closely and keep stirring, no oil is necessary. If you are concerned, you can use non-stick spray or add a little bit of water if it begins to stick.
Add the ground beef and brown. For variety you can substitute up to 1/4 of the beef for ground sausage.
Drain the meat if necessary and add the tomatoes and tomato paste. If using whole tomatoes be sure to break them down as much as possible while they are simmering. Also add salt, pepper and seasonings to your tastes. (You could also just add a bottle of your favorite pasta sauce in place of the tomato products). Hopefully you will end up with 5-6 cups of sauce.For best results, divide the sauce into two equal portions so that each pan will get its equal share. Set aside.
Meanwhile, break the 9 lasagna noodles (about 8 oz) in half gently. Boil them per package directions. After draining them, I found it helpful to put them back in the pan and cover them with cold water which kept them from sticking together or drying out. Three halves will lie on the bottom of the pan and they will be layered 3 deep. There will be just enough for the two 8X8 pans.
Prepare the cheese filling. NOTE - these directions are given for one pan at a time since that seemed easiest. Once the cheese mixture is ready, layer your first pan and then make the 2nd set of cheese mixture.
Take 2 cups of well packed spinach and roughly chop it. Nuke in microwave for 2 minutes. It will wilt and shrink up. Allow to cool. (continue assembling cheese mixture in the meantime). Once cool enough to handle, drain as much liquid as you can. I used my hands. Feel free to substitute thawed frozen spinach-- you want about 1/4 cup cooked spinach. Add to mixing bowl with the cheese/tofu.
Remove the silken tofu from the aseptic box by cutting the box open as per the box instructions. (Use one box per pan). Do this over the sink and pour off the extra liquid before putting into the mixing bowl. Mash the tofu up (I used my hands!) until it is in tiny pieces. Add 1/4 cup parmesan cheese. You will use 4 oz of mozzarella cheese per pan. Decide how much you want to go on top and set that aside. (I've found that 1 oz is adequate but people who aren't concerned with calories may want to add to that). Dump the rest into the tofu mixture.
Stir to combine all ingredients and season with salt, pepper, italian seasonings and or garlic powder to your personal tastes. It will be very bland if you don't season it! Once it tastes right, add one egg and stir until well combined.
Now you are ready to combine your lasagna. Put a small amount of sauce in the bottom of the pan. Then layer 3 half-noodles across. On top of the noodles put a generous amount of sauce and half of the cheese/tofu mixture. Repeat layers (noodles, sauce, remaining cheese/tofu). Finish with a final layer of noodles and a small amount of sauce.
Repeat above instructions with the 2nd pan. If storing for OAMC- put the cheese for the top in a ziploc bag and freeze together with the lasagna. Someone will have to help me with cook times for a frozen lasagna! Let me know and I will edit the recipe.
To bake: Cover with foil and bake at 375F for 30 minutes. Remove foil, place reserved cheese on top and bake for an additional 10 minutes or until cheese is melted and beginning to brown.
Cut each pan into 6 slices (3 down, 2 across).
get the genius kitchen app.
Watch on your iPhone, iPad, Apple TV, Roku, or Fire TV.
Learn More