"Most people who taste this are surprised it contains 3 pounds of zucchini. This was Mom's most popular recipe EVER. The title is my idea. Mom called it Zucchini Casserole. Boring, yes, but it gets right to the point. Mom made this as long as I can remember, and we took it everywhere: potlucks, family reunions, picnics. There were NEVER any leftovers. Mom had quite a collection of zucchini recipes. She needed them. Dad planted zucchini annually - lots of plants in case some died out before maturing. None of them died. Ever. We weren't quite up to our ears in them, but they were just about up to our bellybuttons. We never tried to sell them - they were hard enough to GIVE away. Folks would look at us and say, "But what do I DO with it?" Mom had an idea. We could con folks into taking some squash by providing recipes. Guess who got the typing job? Me - the one who typed at 15 words per minute. Being my first major typing job, it was a bit sloppy, and I left out the part of this recipe that says, "cover with water, add salt & pepper to taste and boil just until tender" Ooops. Most experienced cooks would figure out the squash must be boiled first, because it says to drain and mash it. Our neighbor, Ellen, however, didn't cook from scratch too much. And when she did, she followed recipes exactly. After making this, she asked Mom why the squash was so hard after she baked it. She had tasted Mom's casserole, and wanted to try it herself. Fortunately, Ellen's the type who could laugh at herself, so she didn't mind when we just about fell over, roaring with laughter. Well, it was funny at the time. Do be sure to file this one away for that approaching day, when you answer your doorbell and find nothing there, but a lone sack of zucchini. Because now you know what do to with it."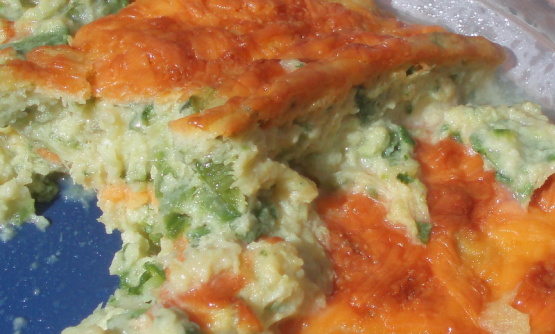 Hide the Zucchini
2 recipe photos
READY IN:

1hr 5mins

SERVES:

8-10

UNITS:

US
Directions
Cut up the squash into chunks (do not peel) and dice the onion (you'd better peel the onion).
Cover with water, add salt& pepper to taste and boil just until tender - let's say about 15 minutes.
Drain and mash, adding the butter after draining the zucchini, but while the zucchini is still hot enough to melt it.
Mix one cup of the cheese and all the remaining ingredients with the mashed squash (If the zucchini is still extremely hot, you should mix a small amount of it into the beaten eggs, then add this along with the remaining ingredients).
Pour into buttered oblong pan (about 10 inches by 13 inches) and top with remaining 1/2 cup cheddar cheese.
Bake at 350 degrees for 30 to 40 minutes, or until center is set.
Check it with a knife blade near the center.
Does it come out clean? It should.
I made this once with mild cheddar.
Never again; it was very bland.
Use sharp or even extra sharp cheese.
NOTE: To address some of the reviews - this is not supposed to be "fluffy" or anything like a souffle; you do not have to press out every bit of liquid from the zucchini after cooking - just drain it really well and then mash; it *is* supposed to be somewhat like a custard and some folks think the texture is kind of like a vegetable quiche.
get the genius kitchen app.
Watch on your iPhone, iPad, Apple TV, Roku, or Fire TV.
Learn More