"I make this challah for my family and family gatherings in Colorado, and it turns out beautifully each time. I hope you enjoy it as much as my family does! If you'd like, sprinkle poppy or sesame seeds before baking, but I never do. Videos for instructions on how to braid a six-strand challah can be found by entering "braiding a 6-strand challah" into the Search box at http://www.youtube.com (I originally saw the one by MayaSophia, on her blog). I always braid mine with the six-strand method now (shown in my picture), because it looks so pretty! *NOTE*: Prep time does NOT include time it take for the dough to rise."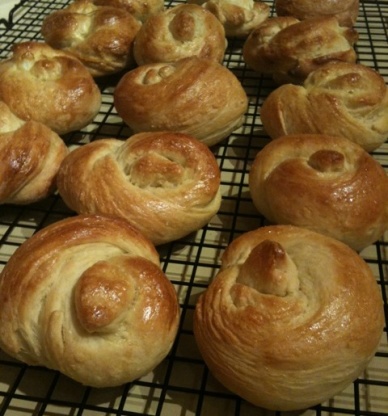 High-Altitude Challah
4 recipe photos
Directions
Combine the warm water, 1/2 teaspoon of sugar and the yeast in a measuring cup. Let stand until the yeast dissolves and starts to foam, 5 to 10 minutes.
In a large bowl, beat 2 eggs. Put the egg yolks in a 1/3 measuring cup and add enough milk to equal 1/3 cup with the yolks in it. Pour this into the bowl with the eggs and pour in the yeast mixture, butter, salt, and remaining (2 tablespoons + 2 1/2 tsp.) sugar. Gradually mix in the flour until the dough is firm enough to handle.
Knead the dough on a floured surface until the dough does not stick to your hands. You will probably use more flour while kneading.
Place the dough into an oiled bowl and turn to coat. Cover and let rise until doubled in size, about 1 hour.
Cut the dough into 3 even portions and roll into long ropes. Press one set of ends together, and braid and tuck the other set of ends under, pressing gently (see the intro, above, for a video link to braiding a six-strand challah).
Place the loaf on a greased baking sheet and cover loosely with plastic wrap. Set in a warm place to rise. Bread is ready to bake when your finger leaves an impression in the dough.
Preheat the oven to 350 degrees F.
Whisk the remaining egg in a small bowl. Brush onto the loaf. This will give the bread a lovely golden color and delicious crust.
Bake until the loaf is golden and the loaf sounds hollow when tapped on the bottom, about 35 minutes. Remove from the baking sheet and cool on a wire rack.
*To make rolls: Follow the steps to prepare the dough, and let it rise until it is doubled in size. Divide the dough into 15-16 even pieces (about 2 oz. [weight] each), and craft into desired shape. Brush with egg wash (as you would the bread), and bake at 350 degrees F for 20 minutes. Cool completely on a wire rack.