Want more from Genius Kitchen?
Watch on your Apple TV, Roku, or Fire TV and your iOS, Fire, or Android device.
Learn More
"This cake was a collaboration w/my friend (Magga) here in Iceland whose 2 daughters are lactose-sensitive. The idea was to avoid (or at least limit) any major dairy ingredients. Magga gave me her lactose-free spice cake recipe & I expanded it. Our goal was a dessert cake for our joint holiday dinners that was safe for her girls & did not make them feel deprived because it was a 3-family group favorite for those occasions. It was plain from its Thanksgiving debut 2 years ago that we had a winner & it is now our go-to dessert for all special occasion meals shared w/them. I do not frost this cake (it really doesn't need it). I have dusted it lightly w/powdered sugar or brushed the turned-out surfaces w/a light caramel or butterscotch glaze. The emphasis is on prep-made-easy, so a ready-to-use ice cream topping sauce is used as an ingredient for the cake & as the glaze. If you prefer a frosted/decorated cake, I suggest a vanilla cream cheese frosting w/candy corn. I also make it 1-2 days ahead of intent to serve. It works well & frees the oven for other parts of the holiday meal (10 min has been allowed for ingredient assembly & measurement. Enjoy!"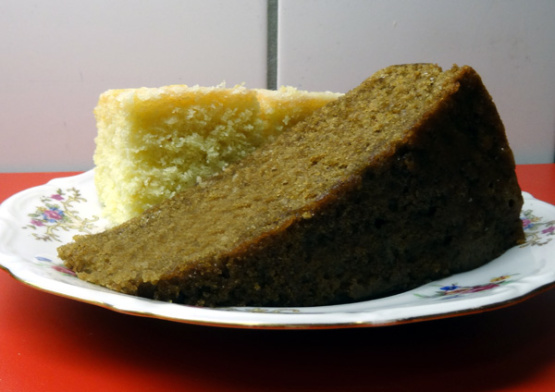 Holiday Caramel Pudding Spice Cake
3 recipe photos
Directions
Preheat oven to 350 degrees.
Combine wet ingredients in a large bowl. Combine dry ingredients in a separate bowl.
Gradually stir dry ingredients into wet ingredients until batter is smooth (Or use a hand-held mixer at a low speed as I do).
Bake in a large greased & lined w/parchment paper deep spring-form baking pan for 50-55-60 min or until tests done w/toothpick or wooden skewer & sides of the cake have separated from the side of the baking pan (My large spring-form baking pan measures 11 in wide & 2.5 in deep).
Allow to cool completely. Run a knife along the edges of the pan. Loosen & remove the outer part of the spring-form pan. Cover w/a large rd serving platter & invert the cake. The cake will settle easily onto the platter. Cover cake w/plastic wrap & store in your fridge until 3-4 hours B4 intent to serve (To save space in my fridge, I store the cake on our balcony & put it on 1 of the chair seats to shield it from the warmth of the sun).
Dusting w/powd sugar should be left until just B4 dessert is served & will still be fresh that way. If you plan to glaze the cake, that should be done when it is removed from the fridge. This will allow the cake to absorb the glaze & be dry enough to cut & eat easily. I use a basting or pastry brush to generously & uniformly glaze the top & side surfaces of the cake.
To serve, gently cut the cake in quarters. From these cuts, you can either cut the remainder of the cake in 12 generous portions or 16 smaller portions. For our grp of 9-10, I have found it more realistic to cut in 16 pieces since this dessert follows a large meal. Our guests can always indulge their appetites w/a 2nd helping & I do not want to waste any part of this cake because the portion size was larger than desired.
Note #1 – Oven times can vary, so I suggest ck'ing for doneness at 50 min & reck at 5 min intervals until done to your satisfaction. Cake should still be moist & cooking time should probably not exceed 60 minutes.
Note #2 – Altho I posted a pic of the cake having been baked in a bundt baking form, this was my 1st effort & I do not recommend a bundt pan be used. The cake actually overflowed the bundt form & had to be "trimmed" to serve. The spring-form pan works best & I have now posted those pics as well.
get the genius kitchen app.
Watch on your iPhone, iPad, Apple TV, Android, Roku, or Fire TV.
Learn More