Want more from Genius Kitchen?
Watch on your Apple TV, Roku, or Fire TV and your iOS, Fire, or Android device.
Learn More
"My recipe for a fresh-roasted pumpkin pie. Touches like pure maple syrup, cream, dark rum, and
Holiday Pumpkin Pie Spice
make it special. It takes a bit of work, but is so worth it in the end. 1 2/3 cups canned pumpkin puree may be used to substitute fresh -- but you would be losing the warm, rich flavor you can get from a slow-roasted, fresh pumpkin."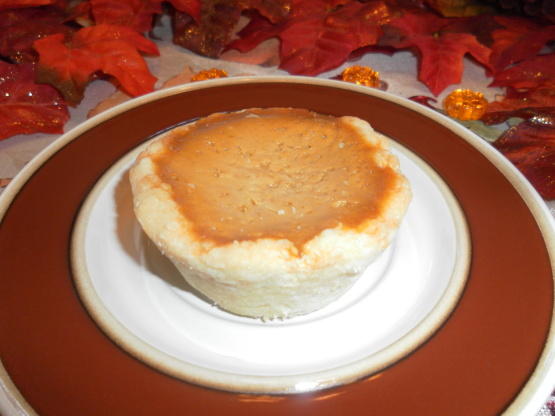 Holiday Pumpkin Pie
2 recipe photos
Directions
PREPARE THE FRESH ROASTED PUMPKIN: Preheat oven to 375°F . Slice one medium to large sugar pumpkin carefully in half using a sharp or serrated knife. Scoop out all of the seeds and strings using an ice cream scoop. Season pumpkin flesh with a small pinch of kosher salt. Next, sprinkle lightly with fine granulated sugar. Place pumpkin halves cut-side down in a roasting pan. Fill roasting pan with 1/4 inch water. Place roasting pan with pumpkin on the center rack. Bake for one hour. Allow pumpkin to cool. Raise oven temperature to 425°F . Scoop out pumpkin flesh. Puree pumpkin well in a food processor. Mixture should be the consistency of baby food. Strain mixture through a fine mesh sieve. Transfer to a saucepan and simmer uncovered on stovetop for 10-15 minutes until the consistency of thick canned pumpkin puree. Remove from heat to cool. Measure 1 2/3 cups of puree and set aside.
PREPARE THE CRUST: Measure 1 cup flour, 1 1/2 teaspoons sugar and 1/2 teaspoon kosher salt into bowl of food processor. Process on high for 5 seconds. Grate 6 tablespoons cold unsalted butter into small strips and add to flour. Add 2 1/2 tablespoons cold shortening in spoonfuls. Process for 5 seconds. Mix 3 1/2 tablespoons cold ice water with 1 teaspoon white vinegar and pour evenly over mixture. Process on high for 5 seconds. Add remaining 1/2 cup flour. Process high for 5 seconds. Place mixture on flat surface covered with waxed paper. Roughly mold into disc shape. Cover dough with waxed paper and roll just until dough is an evenly thick circle, about 1/8-inch thick or less. Remove top half of waxed paper. Turn dough-side down into 9-inch deep dish pie plate. Peel away remaining waxed paper. Fit dough evenly into pan without pressing too hard in any area. Trim pastry slightly larger than the pan and flute edges if desired (if dough becomes too soft, temper in the freezer for 2 minutes and continue until finished). Lightly move a rolling pin over top surface crust border to give a uniform appearance; Place into freezer for 10 minutes. Remove shell from freezer. Place small, light butter plate over middle of frozen dough. Bake for 15 minutes at 375°F . Remove from oven and remove small plate from center of crust with tongs. Place shell on cooling rack. Reduce oven setting to 350°F .
PREPARE THE FILLING: In a small bowl, mix the following ingredients until clump-free: 2/3 cup golden brown sugar (loosely packed), 2 1/8 teaspoons Recipe #490865, and 1/2 teaspoon kosher salt in a small mixing bowl. Set aside. Beat 2 extra large eggs lightly in a large mixing bowl. Separate an additional extra large egg and beat in reserved egg yolk. Whisk in 1 cup heavy whipping cream, 1/3 cup grade a pure maple syrup, 2 tablespoons dark rum, and 1 1/2 teaspoons lemon juice. Whisk the dry spice mixture into to the egg mixture. Whisk combined mixture gradually into the pumpkin puree until smooth and thoroughly combined.
POUR mixture into the prepared pie crust.
BAKE pie at 350°F for 55-65 minutes, until edges are set and center appears slightly soft (oven temperatures vary, so adjust accordingly). Allow pie to cool completely on a rack, uncovered.
PREPARE THE TOPPING: Whip 1 1/2 cups whipping cream using an electric mixer on high speed, while gradually adding 3 tablespoons confectioners' sugar, until cream begins to thicken. Add 1/2 tablespoon dark rum and 1/2 teaspoon pure vanilla extract. Continue whipping until cream is thick, light and fluffy but not overbeaten (you want whipped cream, not butter!).
TOP THE PIE (OPTION 1): Carefully spread whipped cream on cooled pie using a frosting spatula, leaving crust untouched, decorating in swirls.
TOP THE PIE (OPTION 2): Cut pie into serving-sized wedges and place onto serving plate(s). Fill a pastry bag with whipped cream. Using a decorator tip, carefully squeeze whipped cream into a swirled dollop onto cooled pie.
GARNISH whipped topping with a very light dusting of Recipe #490865.
SLICE, serve and enjoy!
get the genius kitchen app.
Watch on your iPhone, iPad, Apple TV, Android, Roku, or Fire TV.
Learn More