"A recipe I have made since I was three with my mom and brother. Great for kids, because they will like to punch down the dough and can even shape it into teddy bears, like we did!"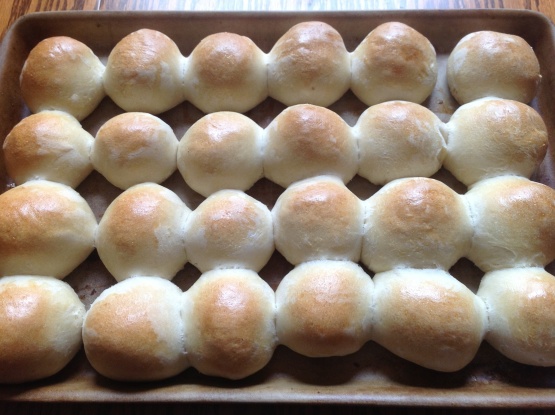 Homemade Bread
1 recipe photo
Directions
In a large bowl, mix the yeast with the warm water and stir in sugar until dissolved.
Add the salt and the flour, one cup at a time.
Knead bread for about 5-10 minutes.
Place bread in a large bowl sprayed with olive oil spray and turn to coat. Cover with a damp cloth and place in(inactive/not hot) oven to rise for one hour, or until dough has doubled in size. (If the kids really can't wait, 45 minutes works too!).
Punch down the bread and let the kids shape it, or put it into two loaf pans. I recommend brushing with an egg mixed with a tablespoon of water because it makes the bread taste better and makes it golden and crispy on the outside. Let the dough rise for another half hour (you can skimp on this to 20 minutes again if you have to!). Preheat the oven to 400 degrees and bake for 25 minutes. Serve with margarine mixed with honey (about 2-3 tablespoons, to taste) and brown sugar (ditto, but packed). To store this bread, wrap very tightly in several layers of foil, or put in a large Ziploc bag and seal. But, it's best warm and served the same day -- however putting chunks in the microwave for 10 seconds if it's a day old helps, too. (Forgive me for my run-on sentences -- I am educated!).
P.S. Even for a health nut like I usually am, using whole-wheat flour exclusively in this recipe gives it a bad reputation.