"Here is a really different recipe I stumbled across for brown bread ice cream. Just the name made me want to try it, and I was glad I did. This recipe requires you to make a custard base and I have given the directions in the recipe. Cook time includes freeze time and this varies from machine to machine. Really great to cool off with and enjoy!"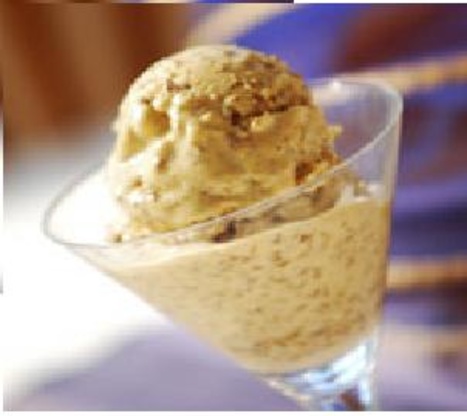 Homemade Brown Bread Ice Cream
2 recipe photos
Directions
In a medium hot oven, bake/brown the breadcrumbs in a roasting tin for approx 10 to 15 mins, turning often.
Make a custard base using 1/2 pint (300ml) of the cream along with the sugar and egg yolks and leave to cool.
Directions for making a custard base:.
Ingredients: 4 egg yolks, 1/2 pint (250ml) milk, 1/2 pint (250ml) double/heavy cream, 4 oz (100g) sugar or caster sugar, 2 teaspoons vanilla extract (or according to taste).
Scald the milk (bring slowly up to boiling point in a saucepan).
Separately, mix together the egg yolks and sugar until thick.
Pour into this the hot milk, whilst continuously stirring. Then pour the mixture back into the pan and heat gently, stirring until the custard thickens - DO NOT BRING TO THE BOIL OR IT WILL PROBABLY CURDLE.
When you can see a film form over the back of your spoon it's time to remove the saucepan from the heat.
Leave to cool.
When the mixture is cold, stir in the breadcrumbs, vanilla extract and rest of the cream and then transfer the complete mixture into an ice cream maker.
Freeze following the manufacturer's instructions BUT just as it's starting to freeze whisk the egg whites until fluffy and add to the mixture, thereafter continuing the freezing process.