"Here's another chicken recipe frommy personal computer cache. Do not use a crock pot for this unless you have a REALLY BIG one! This sotck can be used in many different ways. The directions may seem daunting but they are just to aquaint you with the possibilities of ingredients. Most of the time is for cooking."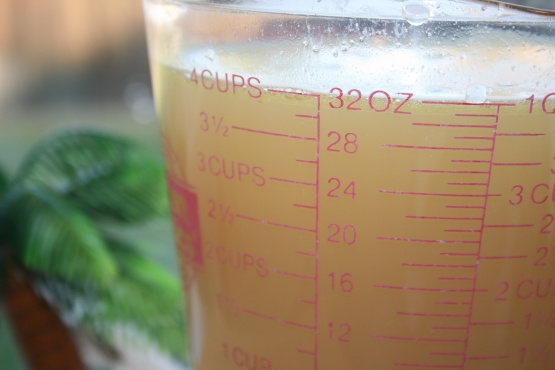 Homemade Chicken Stock for Cooking
6 recipe photos
1

whole broiler-fryer chicken (cut up is optional)
herbs or spices, of your choice

assorted fresh vegetable, unpeeled (celery, carrots, etc)
Directions
Place a whole chicken in a large pot of water with a large amount of water with washed (no need to peel) large carrots cut into managable pieces, a large onion, quartered (also not peeled -- the peels seem to add more color and taste to the stock), 6 or 8 stalks of celery with their tops, also cut into managable pieces, a bunch of parsley, (you can leave it whole too) a head of seperated, unpeeled garlic cloves, a few bay leaves, 10 or 12 whole peppercorns and whatever else stikes my fancy at the time that seems as tho it might work with a chicken stock.
Also could add a turnip, shallots or anything else that will work that is in your fridge, and needs to be used up.
Bring to a boil, cover and simmer to get all the flavor out of your herbs and vegetables. It could take a couple of hours to get every little bit of flavor. Drain into a colander (make sure you have something under it to catch the stock. Missing this step can be frustrating; to smell it cooking for so long, look forward to a delicious stock and then dump it down the drain because you forgot to place a container under the colander).
Return the stock to the pan and simmer to reduce the stock and enrich the flavor.
You can add salt if you like, but I don't usually because I will probably salt whatever I will make with the broth. I don't think you will miss it.
The vegetables and herbs season the stock up nicely.
Never toss a turkey carcass without treating it as a stock option.
Break it up to fit if you have to, but never throw it away without making a delicious stock out of it first.
Turkey stock makes a delicious soup or stuffing seasoning as a side dish to chicken or base for a gravy.
Making stock isn't hard, but it is a little time consuming because of the long cook time.
The working part is easy because you don't have to peel anything.
The peels are good for the stock and leave lots of good things behind like vitamins.
What you throw away has all the good stuff simmered out of and into your broth. (This is the reason I cringe when someone is going to boil their meat before grilling. What a waste of wonderful flavor to be poured down the drain).
Try it sometime on a day off when you have a few hours to make the stock.
I have heard of making it in a crockpot, but I can't imagine doing so because of all the stuff you add to the pot.
My crockpot just would not be big enough, but my stock pan is great and makes a decent amount of stock.
I can get 2 - 1 gallon size freezer bags out of one chicken.
It makes the best chicken soup, but use fresh chicken and vegetables because those make the best tasting stock.
get the genius kitchen app.
Watch on your iPhone, iPad, Apple TV, Roku, or Fire TV.
Learn More