"I'm a cranberry nut. I just can't get enough of these berries. Here are some fun facts I found on the web. Cranberries are one of the only three native North American Fruits (Concord grapes, and blueberries being the others). To the eastern Indians, cranberries were known as sassamanesh. The Cape Cod Pequots and the South Jersey Leni- Lenape tribes called the little red berry ibimi or bitter berry. But it was the Pilgrims who gave the cranberry its modern name. To them, the pink cranberry blossoms resembled the heads of cranes; therefore the word crane berry later contracted to cranberry. Early American sailors carried barrels of cranberries while at sea as a source of vitamin C, much like the British limeys carried limes aboard ships."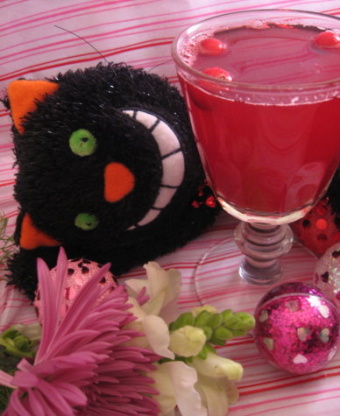 Homemade Cranberry Juice
1 recipe photo
Directions
Wash and drain fresh or frozen red-ripe cranberries.
Combine cranberries and water in a large pan.
Bring to a boil.
Reduce heat and cook until berries burst.
Strain juice through a fine strainer lined with cheese cloth.
Sugar can be added to juice to your taste.
Reheat juice until it is almost, but not boiling.
Pour into jars.
Allow to cool before refrigerating.
get the genius kitchen app.
Watch on your iPhone, iPad, Apple TV, Roku, or Fire TV.
Learn More