"I had a bunch of apples and decided I wanted apple cider. So I started to play around with apples and spices. I made sure to write down every step in case it came out ok. Well it came out great. It's a little on the strong side but my family LOVES it. We will be making this again. I used Honey Crisp Apples but I'm sure other types would be great also. You could also use 3 cinnamon sticks instead of ground cinnamon and 1/4 tsp ground cloves instead of whole cloves."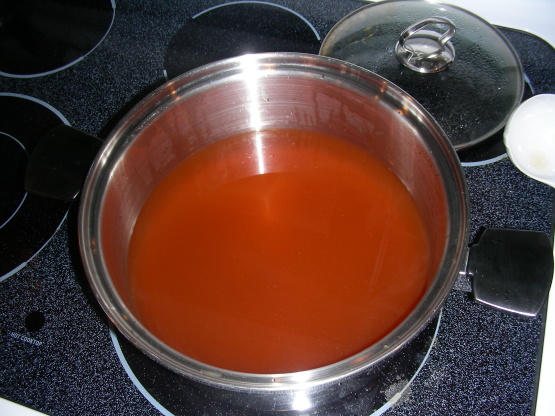 Homemade Hot Apple Cider
1 recipe photo
Directions
1. Juice apples in juicer until you have liquid for 10 cups.
2. Pour juice into large pot.
3. Add allspice, nutmeg, cinnamon, cloves, sugar, brown sugar, & water to pot of juice.
4. Put about 1 TBSP of cloves in a tea steeper and hang it on the side of the pot so the cloves are in the juice. (You could also use a cheese cloth bag or just throw them in, they come out when you strain the juice). You could also use ground cloves but only use about 1/4 teaspoon.
5. Cook on med heat just until boil then reduce heat to simmer.
6. Cook on simmer for about an hour or as long as you want.
7. Strain cider through small mesh strainer or through cheese cloth. (I used an extremely thin dish towel) Make sure to squeeze any extra juice that might be left in the cheese cloth.
8. Your cider is ready to serve.
This cider is also really good cold.