"You can jazz this recipe up several ways. Use an herbal tea instead of water (calendula is great for skin!), or an herb oil (like peppermint) instead of regular oil. Add optional oils AFTER the lotion has emulsified or it may not emulsify properly. Great oils to use would be almond, olive, grapeseed, or a mixture of any. Don't use vegetable oil. Tea tree oil and vitamin E oil will help keep the lotion from going bad. Keep this lotion in the fridge and warm it up in your hands before using. Great for baby massages (I massaged my wee one with almond oil and water lotion when he was younger), and also very nourishing for people who have to wash their hands a lot."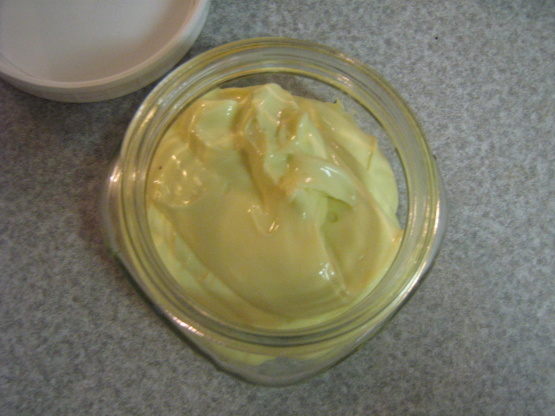 Homemade Lotion
1 recipe photo
1

cup water

1

cup oil

1

tablespoon liquid lecithin

5 -10

drops essential oils (optional)

1

teaspoon tea tree oil (optional)

1

teaspoon vitamin E (optional)
Directions
Place water, oil, and lecithin in a blender (the magic bullet works really well for this recipe). Turn on the highest setting until it thickens into a lotion.
Spoon mixture into a bowl that has a lid, and add other optional ingredients at this point. Add as much or as little as you like.
For a great scar lotion, add lots of vitamin E oil.
But beware, this makes a lot of lotion, so split this recipe in half if you don't intend to use it up in time.
Put on the lid and keep this lotion in the fridge. It will warm up in your hands very quickly when you're ready to use it.