"From the Mennonite Community Cookbook given to me by my mother (who was raised Mennonite). All purpose pie crust but posted to go with my recipe for PA Dutch Authentic Shoo Fly Pie #163320."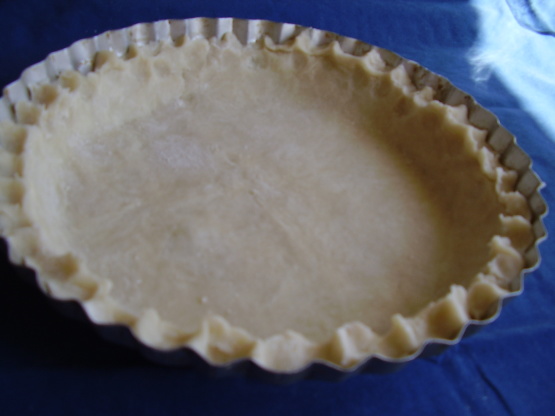 Homemade Pie Crust (Pa Dutch Country)
1 recipe photo
Directions
Combine flour and salt in mixing bowl.
Cut shortening into flour with pastry blender or 2 knives. Do not overmix; these are sufficently blended when particals are the size of peas.
Add water gradually, sprinkling 1 tablespoon at a time evenly over mixture. Toss lightly with a fork until all particles of flour have been dampened. Use only enough water to hold pastry together when it is pressed between the fingers. It should not feel wet.
Roll dough into a round ball, handling as little as possible.
Roll out on a lightly floured board into a circle 1/8 inch thick and 1 inch larger than the diameter of the top of the pie pan.
Place circle into pie pan, gently pressing dough to fit to the bottom & sides.
Trim edges with scissors or a sharp knife letting 1/2 inch extend over rim.
Turn edge under and flute with fingers to make a standing rim.
Prick shell all over with a fork to prevent air bubbles.
If desired, bake at 450 for 12-15 mins or until a golden brown. (Not necessary for the Shoo Fly Pie and most other baked pies.).