"When I was young, my mother made pumpkin pie from homemade pumpkin puree made from fresh pumpkins or hubbard squash we grew ourselves. Ahhhhh... good times! Being lazy, I have developed my own very simple method for creating pumpkin puree, which, surprisingly, has not been posted here previously. My method is faster and easier than the other recipes, which require baking the pumpkin for an hour or more and removing the skin, before or after cooking. I believe that you save a lot of the nutrition, particularly vitamin A, that would be lost if you were to remove the skin. You will be amazed at how smooth the puree is, even with the skin blended in. I also wanted to include some excellent notes from other contributors, or you can reference their recipes, on selecting the pumpkin or squash to make the puree. Notes from PainterCook (
Hubbard Squash Pie
) on hubbard squash Hubbard squash is sweeter and heartier than pumpkin.... You can easily substitute Butternut Squash with great results... Notes from Kim D. (
Fresh Pumpkin Puree
) on selecting a pumpkin I always use "sugar" pumpkins, also known as "pie" pumpkins.... much smaller ... and are much more tender and flavorful. --CHOOSING THE RIGHT PUMPKIN-- ... always choose a pumpkin that is free of blemishes and have been harvested with their stems intact. The pumpkin should feel heavy for their size and should have a dull skin. A pumpkin with a shiny skin was either harvested too early or was waxed by the grower. --STORING PUMPKINS-- Store pumpkins in a cool, dry place at 45F - 60F for up to a month, or refrigerate for up to 3 months. To store pumpkins for an extended time, wash the skins of the pumpkin with a solution of 1 tablespoon chlorine bleach to 1 gallon water to disinfect the skins and discourage the growth of mold."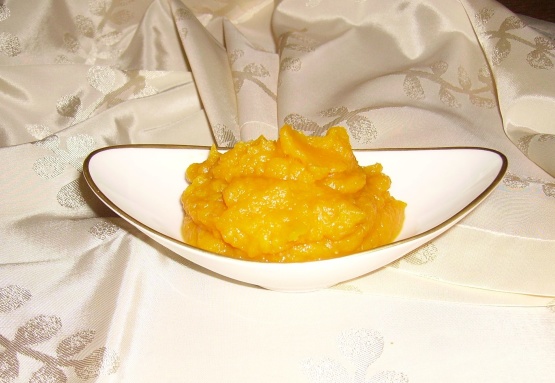 Homemade Pumpkin Puree- Steamed or Boiled
1 recipe photo
Directions
Thoroughly wash the outside of the pumpkin.
Remove the stem and fibrous material around the stem and the bottom of the pumpkin.
Cube the pumpkin into large pieces.
Place in a large pot with just enough water to steam the pumpkin.
Boil for about 30 minutes or until both the pumpkin and the pumpkin skin are tender.
Blend the steamed pumpkin, with the skin, in a blender set on puree until smooth.
You can freeze for months or store in a refrigerator a couple of days prior to use in any recipe calling for pumpkin puree.
Servings and yield depend on the size of the pumpkin and what recipes the puree is used inches.