Want more from Genius Kitchen?
Watch on your Apple TV, Roku, or Fire TV and your iOS, Fire, or Android device.
Learn More
"I've always loved tofu. My childhood friend's family was a tofu maker and I loved going there very early in the morning to watch my friend's father make tofu in his small tofu shop in outskirts of Tokyo. I was too young to know all the subtleties of tofu making but I did observe daily for several years until we had to move. After coming to the US, I was never very happy with the store bought tofu but they were better than nothing and mostly I used them as flavor backdrops. It was not until 6-7 years ago that I decided I wanted to try my hand at tofu making. I researched online and books, purchased tofu making kits including wooden tofu mold, nigari (coagulant) and other coagulants, and soy beans from a farmer in midwest. And most of all, I tried to conjure up my childhood memories of that small tofu shop that I visited - the steps, aroma, and the taste. My tofu presented below is the best I can come up with to date. It is much tastier than what you can purchase at stores, but it is nothing compared to what I remember coming from that tiny store many years ago. Many people use weight for tofu towards the end, but after making tofu over the years, I find that it is not necessary for momen (cotton) tofu or Japanese style tofu. Matter of fact, weight on tofu produces too hard of tofu in my opinion. If you are interested in firm tofu/Chinese style tofu, by all means use weight."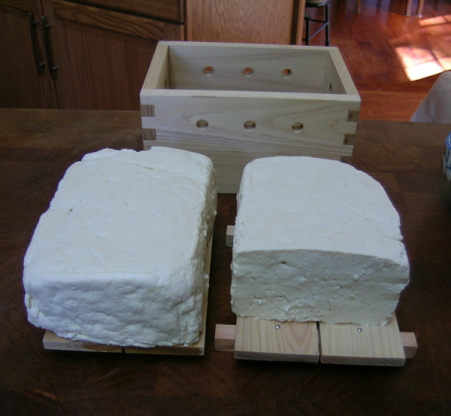 Homemade Tofu - Regular or Momendoufu
8 recipe photos
Directions
Have ready traditional wooden mold for tofu (you can purchase these online) or approximately 6 in round colander, 2 pieces of at least 12 x 12" cotton cloth or heavy weight cheesecloth ready.
Soak beans in 6 C water overnight for 12 hours. Drain beans and divide in two equal portions.
Heat 7 1/2 C water in a large non-stick pot.
Combine 2 1/2 teaspoon nigari with 1 C water and set aside.
Combine one portion of beans in blender with 2 C warm water. Puree at high speed for 1 1/2 to 2 minutes until very smooth. Add this to the 7 1/2 C water boiling in non-stick pot, turn off heat, and cover with lid.
Puree the remaining soybeans with 2 C warm water. Add this to the pot and increase the heat until it comes to full boil and turn off the heat.
Place a colander or strainer over a large bowl or pot. I usually have two bowls going for this. Line this with cheese cloth or cotton straining bag, then pour the contents of the pot into straining bag or cheese cloth.
Twist close the bag or cheese cloth. Using a glass jar, press sack against colander to extract as much soy milk as possible. Be careful not to get any okara or solids into the milk. Rinse out the non-stick pot again for use in heating soy milk.
Open the bag or cheesecloth and remove the solids (okara). Store okara in refrigerator for other uses.
Boil soy milk in a large non-stick pot over high heat, and turn down the heat to simmer as soon as it comes to full boil. Simmer 7 minutes, stirring occasionally.
Remove pot from burner. Using wooden spoon, stir soy milk back and forth vigorously 5 or 6 times, and while stirring, pour in 1/3 cup coagulant solution.
Stir 5 or 6 times more, making sure to reach bottom and sides of pot. Do not overbeat. Overbeating will produce small curds. Small curds are ideal for firm style tofu, but not for regular or soft tofu. Stop and wait until liquid movement ceases, lift out spoon. Sprinkle another 1/3 C coagulant solution over surface of soy milk, cover pot, and wait 4-5 minutes while curds form slowly - from the bottom up.
Uncover pot and, while very slowly stirring upper 1/2 inch layer of curdling soy milk, sprinkle the remaining coagulant solution a little at a time over milky areas. Cover pot and wait 4-5 minutes. Large delicate curds should now be floating like white clouds in pale yellow whey.
Drape clean cheesecloth over wooden tofu mold or if using a small round colander, drape cheesecloth over the colander. Gently ladle all the curds using mesh spoon into the wooden tofu mold or colander.
Fold edges of cloth or cheesecloth neatly over curds, place wooden lid or plate if using only cheesecloth over colander, and let the liquid drain out for 2-3 minutes.
Fill a large basin with cold water. Remove the lid, and submerge tofu-filled container or cheesecloth in water. Gently unwrap tofu under water, and leave in water for 3 to 5 minutes, until it firms up a bit.
To enjoy the flavor, serve immediately. Tofu to be served later in the day should be refrigerated on a plate covered with plastic wrap. For a storage up to 5 to 7 days, refrigerate tofu immersed in water and change the water daily.
get the genius kitchen app.
Watch on your iPhone, iPad, Apple TV, Android, Roku, or Fire TV.
Learn More