Want more from Genius Kitchen?
Watch on your Apple TV, Roku, or Fire TV and your iOS, Fire, or Android device.
Learn More
"My family wanted grilled chicken wings a few weeks ago but I didn't have any sauces I really wanted to use. After an afternoon of playing around this is what I came up with, and it worked very nicely. *Just as a note, I've never been one to measure precisely so some minor adjustments to the seasoning may be required."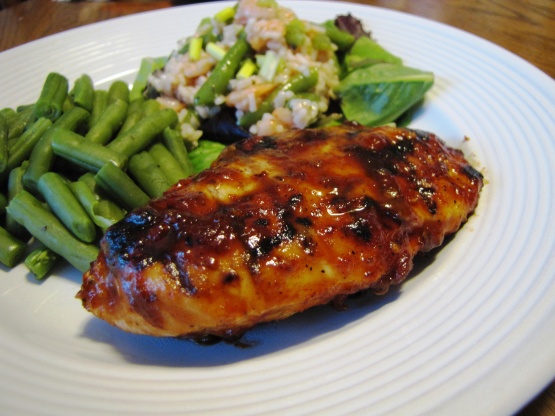 Honey Chipotle BBQ Sauce
1 recipe photo
Directions
Lightly coat the bottom of a large sauce pan with vegetable oil and bring to medium-high heat. Meanwhile sprinkle 1-2 teaspoons of salt onto a small area of a cutting boards. Place your minced garlic on top of this. Take a chef's knife and turn the blade paralell to the board, then place the fingers of your free hand against the side of the knife blade (this should be facing up now) away from the sharpened edge. Press the blade down against the garlic and pull the knife along the board towards you in very short strokes. Be careful to keep the sharp side of the blade against the board and away from you at all times. Be sure to pull the garlic back into a pile and toss it with the salt on occasion. Add salt if there isn't enough friction to crush the garlic. Continue this until you have achieved a paste like consistency. (If this process as described is unclear or undesirable then 1-2 tablespoons of garlic paste can be substituted. There are also numerous demonstrational videos online if I simply wasn't clear enough. Try a search for "how to make garlic paste".).
Once the pan has come to temperature add the onion along with a healthy pinch of salt and saute for several minutes, stirring occasionally, until it has become transparent.
While the onion is cooking open the can of chipotle peppers. If you desire a sauce with a smokey medium heat split the peppers open and scrape down the insides to remove the membranes and seeds. If this is your first use of chipotles this is highly recommended. If, however, you desire a sauce with a more intense heat feel free to use some or all of the seeds/membranes. In either case roughly chop the peppers and reserve the adobo sauce (this is the packing liquid from the peppers). As with all hot peppers you should be careful not to touch your eyes or any other sensitive areas until you have washed your hands thoroughly.
Once the onion has become transparent add the garlic paste. Continue cooking for a few minutes, usually about 2 should do.
Stir the lemon juice, black pepper, paprika, dry mustard, and cumin into the onion and garlic mixture. Cook this mixture for only another minute or two.
Carefully place the onion and garlic mixture into a blender. Add the red wine vinegar, adobo sauce, chipotles, and worcestershire sauce. Puree all ingredients until they reach a smooth consistency. This can be done with a food processor or immersion blender if your prefer, however I would highly recommend a good quality blender be used instead.
Return the contents of the blender to your large saucepan and add the tomato sauce. Stirs these together thoroughly while bringing the sauce to a simmer. Continue cooking covered for 10-15 minutes.
Check the sauce and adjust the seasoning as needed. Add the liquid smoke here if desired. Stir the honey into the sauce slowly. For best results I would suggest adding the honey in a slow stream in two or three separate installments; stir thoroughly while pouring and cook the sauce for a few minutes between additions while stirring constantly.
Return the sauce to a simmer and cook covered for an an additional 15-20 minutes. Check the sauce and adjust seasoning as needed. If a thicker consistency is desired continue cooking to reduce the sauce (also bear in mind the sauce will thicken as it cools).
Allow the sauce to cool completely then refrigerate.
get the genius kitchen app.
Watch on your iPhone, iPad, Apple TV, Android, Roku, or Fire TV.
Learn More