"Elegant cookie with a kind of baked-on honey topping, sprinkled with salt for a delicious sweet-salty flavor. Quick and simple. Bake only until golden or it will be VERY hard! From one of the blogs I checked recently, didn't mark down which one! But many thanks to the blogger! I'd have hated to miss this one! Posting primarily to get the nutritional information, i.e. carb count. Up dated to read: Be very careful about the baking time. It depends on the pan size and thickness of the dough. Don't let it get dark. If you are guessing that I had a problem here, you would be right!!"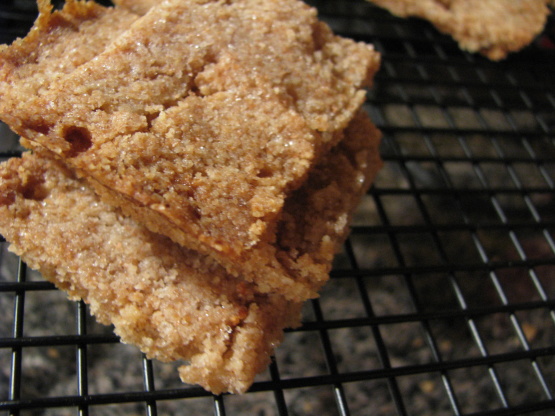 Honey-Coated Shortbread
1 recipe photo
Directions
Use a 9-10" tart pan with removable bottom or a shortbread mold. Spray with Pam. You can even use a regular baking pan, maybe 9 x 11 but you may have trouble removing the first couple of pieces.
Place the flour and sugar in a food processor. Pulse. Add the cold butter and pulse only until it looks like fine sandy crumbs.
Press the dough evenly into the prepared pan with your fingers. Stab all over with a fork. Refrigerate until chilled, at least 30 minutes.
Position a rack in the center of the oven and heat the oven to 350°F.
Bake the shortbread only until just pale gold in the center, 25-30 minutes. Don't overbake; it will get very hard. Remove from oven.
Heat the honey in the microwave until warm and liquid, about 10 seconds. Quickly pour the honey over the shortbread surface and spread evenly with a pastry brush.
Sprinkle the salt evenly over the honey. Return the pan to the oven and bake for 3 minutes more.
Transfer the pan to a rack and let the shortbread cool about 15 minutes. Cut while still warm into wedges or squares with a sharp knife. The cookies will keep in an airtight container at room temperature for 1 week.