"A friend gave me this recipe but the original creator is Natialie Riggin from Olmypia, Washington. Two slices of refrigerator cookies are baked together with chocolate chips for the eyes and a cashew nut for the beak. A clever party cookie."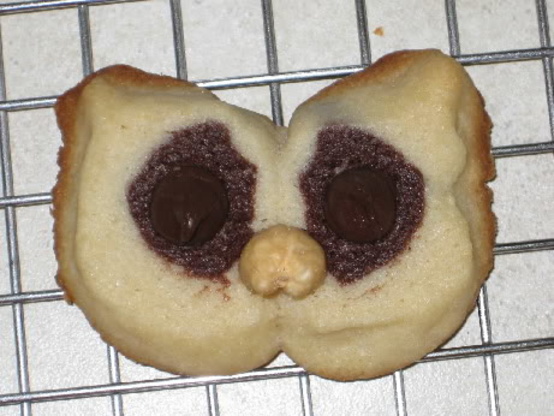 Hoot Owl Cookies
2 recipe photos
Directions
Sift together flour, baking powder, salt. Set aside.
Cream butter, gradually add brown sugar, creaming well. Add egg and vanilla; beat well.
Blend in the dry ingredients gradually; mix thoroughly.
Melt chocolate together, cool and add baking soda.
Remove 2/3 of dough to floured surface. Blend chocolate mixture into remaining dough; chill if necessary for easier handling.
Roll out half the light dough to a 10 x 4 1/4" strip. Shape half of dark dough into a roll 10 inches long; place on strip of light dough. Mold sides of light dough around dark: wrap in foil. Repeat with remaining dough. Chill at least 2 hours.
Cut into slices 1/8 to 1/4 inch thick and place two slices toghter on a greased baking sheet to resemble an owl. Pinch a corner of each slice to form ears. Place a chocolate chip in the center of each slice for eyes; press a whole cashew nut between slices for a beak.
Bake 350f 8-12 minutes. Remove from sheets immediately.