"I found a treasure trove of recipes, which were developed by a lady named Gloria Pitzer, I have no idea, who she is, but when I got my hands on the recipe book, obviously from the 50's, I freaked out. This publication has recipes from places like Woolworth's Sears, and Hudson's Cafeteria, and many, many, more. I figured that the "Zaar" would be the place to preserve them. I haven't made them all, but I know they'll be good....Enjoy!"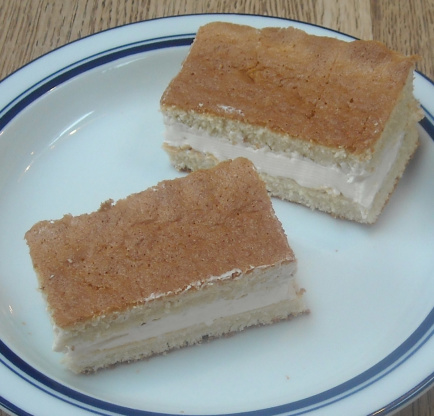 Hostess Twinkie Sponge Cake
1 recipe photo
Directions
Beat eggs til thick&lemon colored (about 5 minutes with an electric mixer on medium speed).
Gradually add the sugar a few spoons at a time; beat another 3 minutes.
Slowly add flour, baking powder, salt.
Beat in milk in three equal portions till blended.
Add Flavoring.
Beat 2 minutes.
Pour batter into greased & floured jelly roll pan.
Bake in the center of a preheated oven at 350 degrees for 38-42 minute (or till toothpick inserted in center comes out clean.
Cool on rack, 1 hour.
Cut into finger shapes to resemble the original Twinkie cakes.
Spread with filling and form into sandwiches.
Wrap and refrigerate or freeze to use as needed.
Keeps for up to 3 weeks refrigerated. Freezes almost indefinitely if wrapped well.