"The biggest thing to know about this recipe is it is designed to be as hot or not as you want it. You can pick the hot sauce, and the type of peppers you use depending on how hot you want it. The Mongolian Fire Oil is deceiving in name. The oil adds mild warmth to the full mouth, not a flaming burst so do not worry about adding the full amount. A small taste on the tip of the tongue will show how not "HOT" it is."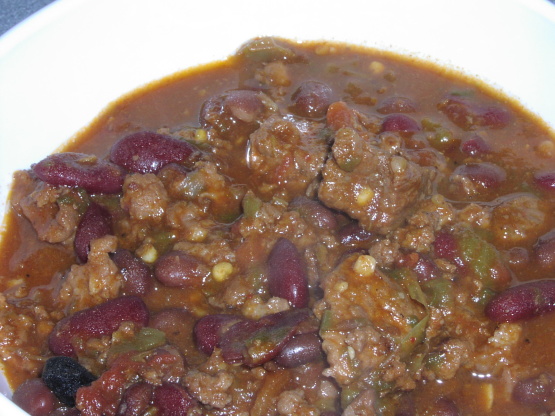 Hot and Spicy Chili
1 recipe photo
Directions
Prep all veggies in separate containers. Slice all peppers, do not separate seeds, chop onion and slice or chop garlic.
Pour tomato sauce and diced tomatos into large pot and use medium to high heat. Stir often to prevent burning sticking to bottom.
Add peppers, onion, garlic and peppers to sauce as you stir.
Brown the ground beef in a separate pan over high heat until color is more brown than pink and add to pot WITH oil from browning.
Repeat as needed until all beef is used. I recommend doing this is small amounts using a spatula to "stir" beef. "A metal spatula is recommended as you will have to break apart pieces that stick together,.
Make sure the stew beef is cut into small cubes, 2 to 3 fingers in width, and brown in pan as done previously with ground beef and add to pot with oil.
Remove the skin from the spicy sausage and brown the filing like above and add to pot with oil.
add beer to pot.
Open and add cans of beans one at a time stirring as they are added. – Drain the beans for a thicker final chili or add all for a thinner one.
Lower heat to medium low and let chili simmer for an hour or two stirring to prevent sticking at bottom of pot.
Add Three tablespoons of Mongolian fire oil.
Add 1/8 to 1/4 cup chili powder Add Red pepper, chili powder and favorite hot sauce until desired spice level is attained.
Let simmer for 2 or more hours, stirring each 15 min max, to fully cook meat and allow for spice infusion.