"Adapted from Fieryfoods, these tortillas are spicy and hot! Use less chile or use milder chiles for less heat. You can have fun with these and add different spices and herbs of your choice. Here are a few interesting facts about tortillas: Tortillas are second only to fresh breads in U.S. sales and outsell bagels two to one. 55 percent of all flour tortillas are sold to restaurants versus 32 percent of corn tortillas. Americans eat 7 billion pounds of tortillas a year, the equivalent of one tortilla per person per day. 55 percent of all flour tortillas are sold in the west, and 54 percent of all corn tortillas. There are about 300 U.S. tortilla manufacturing companies. Tortillas are booming in Europe, too: A Mexican operates a successful tortilla company in Germany, capable of cranking out up to 2 tons of tortillas per day (Mexican and TexMex restaurants and food are becoming increasingly popular abroad.)"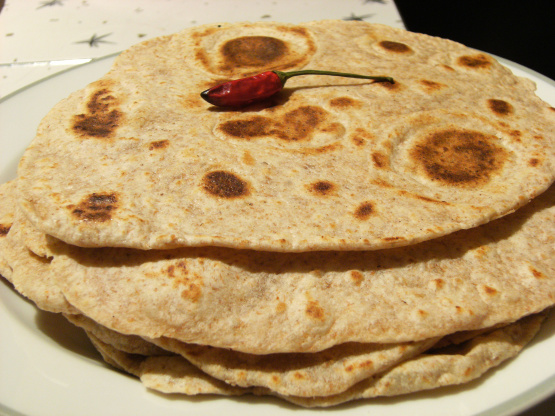 Hot Chile Tortillas
2 recipe photos
Directions
Mix the flours, salt, chiles, and butter in a food processor bowl or a bread machine set on manual(now would be the time to add in other spices and herbs, if using). Slowly add the warm water until the mixture forms a smooth, moist ball.
Remove the dough, divide it into 12 equal size balls, cover with plastic wrap, and let the dough rest for 30 minutes in a warm place.
Flatten each ball in a tortilla press or with a rolling pin to the desired thickness, usually about 1/8 of an inch.
Cook each tortilla on preheated, hot griddle on medium heat. Turn the tortilla every 10 seconds for about 1 minute. As it cooks, it will develop some puffing and some dark spots. Place each cooked tortilla under a terry cloth or linen towel, When you have finished with all of the tortillas, place them in a plastic bag and store in the refrigerator until they are needed.