Want more from Genius Kitchen?
Watch on your Apple TV, Roku, or Fire TV and your iOS, Fire, or Android device.
Learn More
"Many people love sushi, but are intimidated to make it themselves, however, it is REALLY EASY to make, and a LOT of FUN too! You won't believe how creative you can get while making your sushi. The sky is the limit really! Add any veggies and fish you like, and be creative. Please note that this is basically a TUTORIAL on "How To Roll Sushi" and "How To Arrange Your Ingredients". Some of my favorite sauces are
Japanese Tsume and Tare - Nitsume or Thick, Sweet Eel Sauce
,
Linda's Thai Sweet Chili Sauce for Dipping (Egg Rolls, Sushi)
, and a recipe I just posted for
Linda's Spicy Mayonnaise Sauce for Sushi
. ALSO, please check out the recipe I just posted for
Types of Sushi Rolls
. With this tutorial and the recipes for
Types of Sushi Rolls
, you have all you need to create a Sushi Lover's Dream! Enjoy!"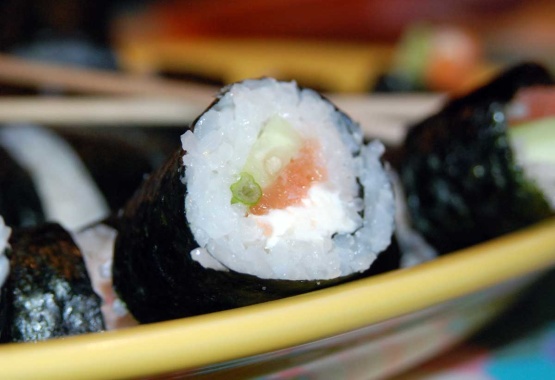 How to Make and Roll Sushi
17 recipe photos
READY IN:

10mins

YIELD:

1

roll

UNITS:

US
Directions
Prepare any sauces you will be making to use on your rolls ahead of time, so they will be ready.
Cut any vegetables you will be using in long thin strips about 1/4". (I like using European cucumbers with seeds removed, carrots, avocados, and green onions).
If you are using Tempura Shrimp it takes 2 large shrimp per roll. Just place them end to end on your roll.
If you're using Tempura Soft Shelled Crab, you use one crab per roll, laying it out so the claws will be sticking out each end of roll.
If you are making rolls with raw fish on top (such as the Rainbow Roll), slice the fish pieces about 1/4" thick, and they should be about 1" wide pieces.
If you are using tuna or salmon inside the rolls cut them into small chunks.
To Make A Roll With The Rice On The Inside:
Place your mat on the surface you will be working on.
Place a piece of saran wrap on top of your mat.
Place a nori sheet on the saran wrap, shiny side down.
Dip your hands in water and then grab about 3/4-1 cup of cooked sushi rice, and place it on the nori sheet. (Dipping your hands in water first will stop the rice from sticking to your hands). If you like less rice use 3/4 cup if you like a little more, use about 1 cup. You don't want it so thick that it's difficult to roll.
Bring the rice up to just about 1" from the far end of the nori sheet (the end without rice will help the roll to hold together).
Spread out the rice evenly with your hands, dipping them in the water if your hands start sticking.
Press the rice down with your hands, to make it stick to the nori sheet.
Place the ingredients your going to use in a horizontal line across the center of the rice.
Pour any sauce you may be using on top, such as Spicy Mayonnaise.
If Your Making An Inside Out Roll:
Where the rice is on the outside of the roll, put on your rice, then flip over so that the rice is on the saran wrap, and then place your ingredients in a horizontal line across the center of the rice.
If Your Making A Roll With Fish On Top Of Roll (Ex:Rainbow Roll):
Place your fish pieces vertically over.
lapping each other a little across the length of your roll.
To Roll The Sushi:
Taking your fingers bring up the nori sheet, covering the ingredients.
Bring the mat up over the top of the ingredients, and start rolling up the sushi tightly to form a neatly packed cylinder (Like a fat cigar).
Squeeze firmly to make sure the sushi roll is tightly packed (be careful not to squeeze too hard or you'll break the sushi roll).
Unroll the mat, and you have your sushi roll.
Cut each sushi roll into 1 1/2" rounds using a sharp, damp knife (it's important that you re-moisten the knife after each cut). (I usually cut in the middle of the roll, then in the middle of each of piece to make 4 pieces, then in the middle of those 4 to make 8 pieces altogether.
Plate your sushi.
You May Also Try This Way:
When ready to roll, bring up the nori sheet and saran wrap over the ingredients, then roll pressing with your hands until it's rolled up like a cigar.
Take your mat and place it over your roll, and press the roll with your hands to tighten roll.
When Cutting Rolls With Fish On Top:
It is helpful to cut with the roll wrapped in the saran wrap. Just cut as instructed above with the saran wrap on top of the mat, then when done rolling take off the mat, cut through the saran wrap to cut your sushi into pieces, then pull off the saran wrap.
Plate your sushi.
If Using Eel Sauce:
Drizzle over the top of your sushi.
Serve along with wasabi, pickled ginger, soy sauce, or any other sauce you may like to use for dipping.
Note:
If using Lump Crab mixed with Spicy Mayonnaise or Masago on top of your sushi, spread on right before cutting, then cut as above.
get the genius kitchen app.
Watch on your iPhone, iPad, Apple TV, Android, Roku, or Fire TV.
Learn More