Want more from Genius Kitchen?
Watch on your Apple TV, Roku, or Fire TV and your iOS, Fire, or Android device.
Learn More
"First for a story, The Mossi of Burkina Faso in Africa will not let their children eat eggs for fear they will become thieves! The idea is not that, he who steals an egg will steal an ox, but because he who steals an egg is stealing a chicken. Poultry lives at large in the villages of Africa, laying eggs anywhere. More seriously, the spirits will be offended, for all the poultry the Mossi eat has first to be sacrificed to the local tutelary spirits. Don't worry that is just one of the many countries in sub-Saharan Africa, Ethiopia's spicy national dish, Doro Wat contains hard-boiled eggs. English influence on South Africa certainly brings them onto the table. Oto (Yams & Eggs) of Ghana is eaten for breakfast on festival mornings. And when it comes to boiling eggs, the biggest problem is that people can easily over-cook them, leading to a dark green color around the yolk, and a somewhat sulfuric taste. This is a method for cooking hard-boiled eggs so that they don't turn out that way."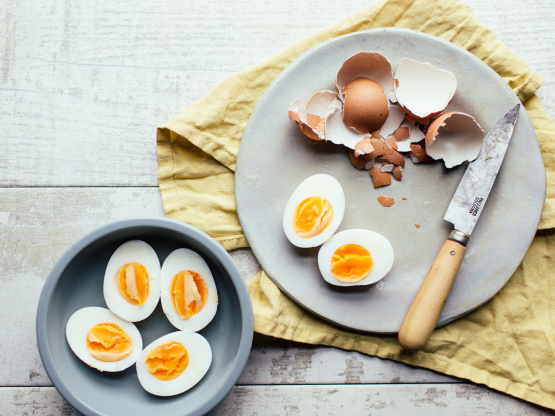 How to Make Perfect Hard Boiled Eggs
6 recipe photos
Directions
First make sure that you are using eggs that are several days old. If this is Easter time, and everyone is buying their eggs at the last minute, buy your eggs 5 days in advance of boiling.Hard boiling farm fresh eggs will invariably lead to eggs that are difficult to peel. If you have boiled a batch that are difficult to peel, try putting them in the refrigerator for a few days; they should be easier to peel then.
Put the eggs in a single layer in a saucepan, covered by at least an inch or two of cold water. Starting with cold water and gently bringing the eggs to a boil will help keep them from cracking. Adding a tablespoon of vinegar to the water will help keep the egg whites from running out of any eggs that happen to crack while cooking, but some people find that the vinegar affects the taste.
Adding a half teaspoon of salt is thought to help both with the preventing of cracking and making the eggs easier to peel. Put the burner on high and bring the eggs to a boil. As soon as the water starts to boil, remove the pan from the heat for a few seconds.
Reduce the heat to low, return the pan to the burner. Let simmer for one minute. (Note I usually skip this step because I don't notice the eggs boiling until they've been boiling for at least a minute! Also, if you are using an electric stove with a coil element, you can just turn off the heat. There is enough residual heat in the coil to keep the eggs simmering for a minute.).
After a minute, remove the pan from the heat, cover, and let sit for 12 minutes.
Strain out the water from the pan, fill the pan with cold water, strain again, fill again, until the eggs cool down a bit. Once cooled, strain the water from the eggs. Store the eggs in a covered container (eggs can release odors) in the refrigerator. They should be eaten within 5 days.
get the genius kitchen app.
Watch on your iPhone, iPad, Apple TV, Android, Roku, or Fire TV.
Learn More