"I made these one night when I was craving some meatball subs. Unfortunately, I did not get to try any as my husband ate them ALL! They are nice and moist, and hold together even without the egg. They are 6 ww points for four meatballs."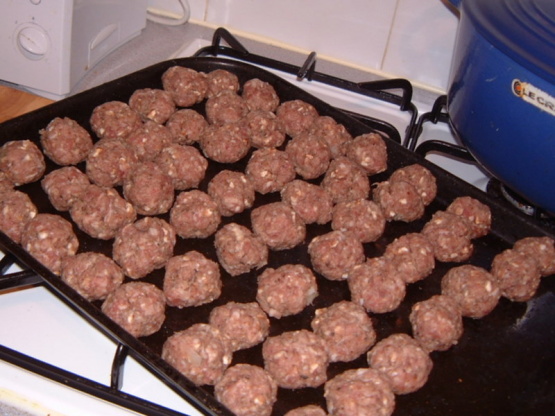 Hubby-Will-Inhale-Them Meatballs
6 recipe photos
Directions
Finely grate onion into large bowl.
Make sure all the juices are in the bowl as well.
You may need to wipe the grater with your finger.
Add remaining ingredients except cooking spray, and mix well.
Shape into 24 meatballs.
Spray skillet with cooking spray.
Heat skillet over medium heat until hot.
Add 12 meatballs to skillet and cook about 8-10 minutes, turning to brown evenly.
Remove cooked meatballs, and drain skillet.
Cook remaining 12 meatballs.
Serve with your favorite marinara sauce.