"This is the BEST hummus / humus recipe I've ever made. It tastes just like the hummus that is served at Middle Eastern restaurants and has had all my friends raving. I've tried lots of hummus recipes in my quest for the best and I believe this is the one. It was given to my by a work colleague who said she's always inundated for the recipe after people have tried it. One important note - don't substitute canned for dried chickpeas- it won't work! I did this the first time I made it and it was too salty. It's a little bit of extra effort/preparation - but using dried chickpeas guarantees the right combination of flavours. The amounts below make large serving of the dip - you can easily halve or quarter the amounts and still get a delicious result."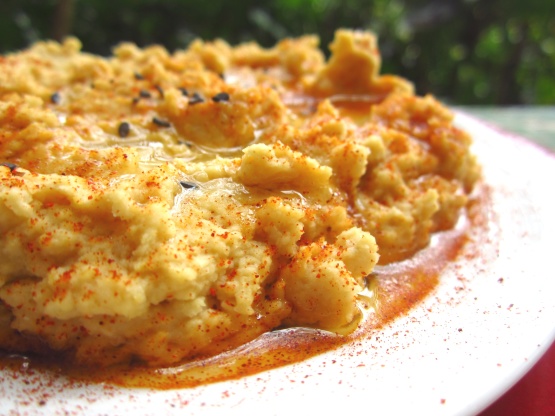 Hummus (Or Humus) - Authentic
4 recipe photos
Directions
Soak the garbanzos (chickpeas) in water for 6 hours. there should be enough water to more than cover the chickpeas and allow them to expand.
Drain the chickpeas and put in a large saucepan with 2 litres of fresh water.
Simmer for 1 1/4 hours - or until the chickpeas are very tender.
Drain the chickpeas, reserving about 1 cup of the liquid. Allow the chickpeas to cool (I often run them under cold water).
Put the chickpeas in a food processor with all remaining ingredients - except the reserved liquid and the extra oil and paprika.
Process until smooth and creamy looking, adding some of the reserved liquid until the desired consistency is achieved.
Serve drizzed with olive oil and paprika.