"This is a delicious Hungarian dish, usually made at Christmas time. My family loves it so much, that I have to make it more than once a year. As most Hungarian foods, this is a heavy one too! You can put the leftovers into the freezer, and warm it up even after a month. There is a saying in our country, which we use to describe a relationship, that was broken up, then warmed up again. "Only the sauerkraut is good warmed up", and this saying is true. It's just as good taken out of the freezer that it is served fresh. Enjoy! P.S: You shouldn't be choosey when you make this...you must taste it while preparing the raw meat!!"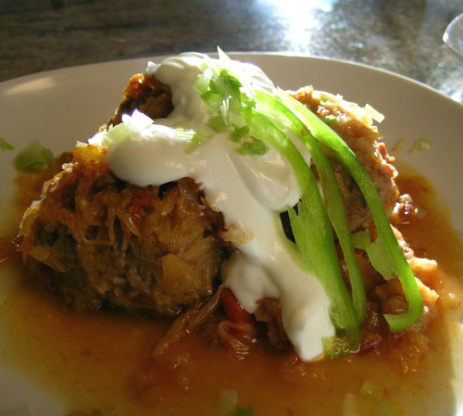 Hungarian Stuffed Sauerkraut
2 recipe photos
READY IN:

2hrs

SERVES:

4-6

UNITS:

US
Directions
Squeeze out all excess liquid from sauerkraut into sink from and place in a bowl.
Cook the rice (you should end up with about three cups).
Put ground meat into another large bowl - you will need the space!
In a large deep saucepan, in which you will be cooking the meal; braise the onion in plenty of oil, so it won't burn - until glassy.
When done, pour off the oil, using spatula to keep onion in saucepan.
Divide the cooked onions, leaving one half in saucepan
Place the other half on the meat.
Turn off the heat and put in plenty of paprika and the tomato sauce on onion left in pan.
Pour in some water, just as much so the mixture gets creamy.
Let cool a little, then pour on sauerkraut and mix together.
Take the bowl with the meat and onion.
Make a well in the middle of the meat mixture, add the egg and mix together with your hands.
Mix in cooked rice.
Add paprika for nice red color, salt and pepper to taste and marjoram.
Knead until smooth.
Make sure to taste while you are working with it. This meal should be quite spicy! But not TOO spicy!
Place one third of the sauerkraut mixture into your sausepan and place half of the speck/ham/lean bacon on top.
Make meatballs about the size of a kiwi - don't need to make them hard.
Place in the pan, next to each other to make a "meatball layer".
Put a second layer of sauerkraut mixture on top of it, then another layer of meatballs.
Top it with the remaining sauerkraut.
Place other half of speck on top.
You must completely cover the meat layers with sauerkraut leaving no holes.
Pour in water only until you can see it appear on the side - to about 3/4 of the pan.
Cover, and cook on low heat. Do not stir!
Occasionally lift pan up and move back and forth sideways, like you were steering your car.
It is done when sauerkraut is so soft it melts in your mouth. You don't need to taste the meat, because it cooks sooner than the sauerkraut, so it is 100% done if your sauerkraut is cooked.
Serve with sour cream.