Want more from Genius Kitchen?
Watch on your Apple TV, Roku, or Fire TV and your iOS, Fire, or Android device.
Learn More
"Elise and I love to bake together. Once a year, my son Thomas, my daughter-in-law Supa, and granddaughter Elise come to visit us in Virginia, and I go visit them in Texas This year,on their visit from Texas, Elise and I decided to make Ice Cream Sandwiches for the Newtown Ice Cream Social. This was exciting for both of us! We made the ice cream the day before. The Sandwich Brownie needs to be made early in the day to allow for lots of assembly and freeze time. This is not a fast recipe!! The recipe has many sources. This was inspired by the Ice Cream Sandwich molds from Williams Sonoma, my standard vanilla ice cream, an adaptation of their recipe for brownies, and our experience. I put it all together to make something we could more easily follow. This is what grandmothers and their grandchildren were meant to do... cook and bake together, sharing the fun and love."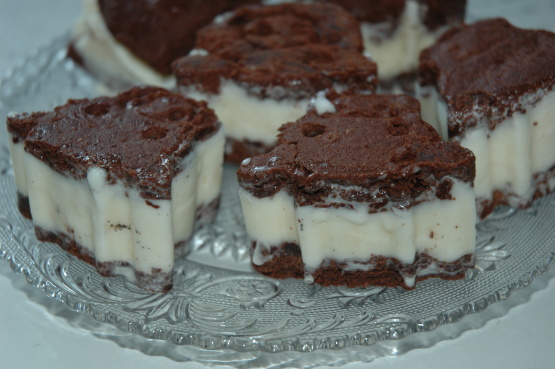 Ice Cream Sandwiches
3 recipe photos
Directions
First make the ice cream.
Scald milk over low heat, but do not boil.
Stir in sugar and salt until dissolved.
Beat the egg yolks in the top part of a double boiler, but do not put over the bottom section, and the hot water, yet.
Slowly add the milk, a little at a time, to the beaten egg yolks, beingcareful not to heat the eggs too quickly, and continuing to beat mixture.
Place double boiler together, and cook over hot water, until mixture is thick and smooth.
Chill.
Add vanilla extract, whipping cream, and half and half.
Fold this mixture into the custard.
Churn freeze.
Pack in tub and place in freezer.
Then make the Sandwich.
In the top of a large double boiler, combine butter and chocolate. (Have heat on barely simmer.).
Heat about 4 minutes, stirring often, until melted. During these 4 minutes, do the next 2 steps.
Line an 11"x17" cookie sheet/pan (one with sides) with parchment paper.
Put flour and cocoa powder in sifter on a piece of wax paper.
Remove butter/chocolate mixture from heat and stir in sugar and salt.
Add eggs and vanilla and blend well.
Sift in flour/cocoa mixture and stir until just blended.
pour batter onto parchment lined pan and spread to even thickness.
Bake at 375 degrees F (190 C) 8-10 minutes, or until testing with toothpick comes out clean.
Cool on rack for at least an hour.
Finally build the Ice Cream Sandwich.
Cut the Sandwich Brownie into 5ths lengthwise, and 8ths crosswise. (making 40 blocks).
Take ice cream out of freezer and allow to soften slightly, just enough to scoop, but firm enough not to melt while you are working. If the ice cream gets too soft, put it back in the freezer and be patient. Continue when ice cream is hard again.
Spread ice cream on first cut out shape about 1" thick or less, following shape of the cut out.
Place second cut out on top of ice cream, press down slightly. Place on wax paper lined tray and put into your freezer.
This is the hardest part, getting them into the freezer without too much melt down. If the sides are sloppy, you can trim them with a sharp knife, after you finish the last one.
Freeze for 2-3 hours before serving.
If freezing for longer, wrap individually in plastic wrap as soon as they get hard.
Will keep for up to a week, though best used within 3 days.
Alternative cutting.
Using cookie cutter, cut out an even number of shapes from cooled brownie. (don't worry if there is an odd number, you can eat that one when no one is looking). Follow rest of above assembly instructions. This will make less sandwiches, as there is a lot of waste in the cutting. These scraps can be reserved to serve with bowls of ice cream.
Elise gave me Ice Cream Sandwich Molds. This is fairly easy, once you get the hang of it. The scraps can be mushed into the mold to work like the cut outs.
get the genius kitchen app.
Watch on your iPhone, iPad, Apple TV, Android, Roku, or Fire TV.
Learn More