"I took this hearty ground beef and potato part of traditional British pub fare and tweaked it just slightly to make it vegetarian and lower fat, but still stick to your ribs and comforting. Making it in individual "pot pie" plates makes portion control, freezing and reheating easy for singles or families where everyone is on a different schedule too!"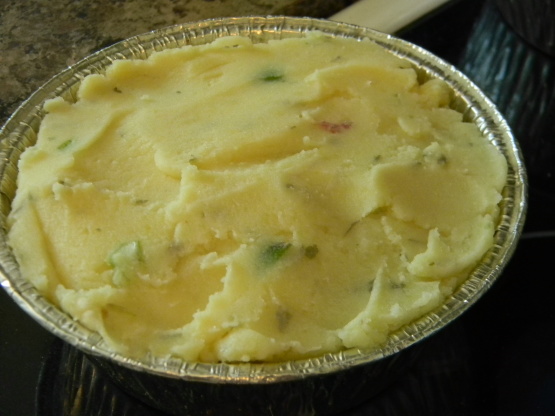 Individual Cottage Pies
1 recipe photo
Directions
Boil potato in a large pot of water with 1 tbsp sea salt.
Pass through a food mill or ricer (or mash completely smooth).
Stir in yogurt, garlic, green onions, Parmesan, black pepper and dried parsley. Set aside.
In a large frying pan heat the oil and cook onion and carrots until tender, about 12 minutes.
Meanwhile, combine Yves' Ground Round, base + water, thyme, allspice, Worcestershire, ketchup, and peas.
When vegetables are done, add to the mince mixture and stir in thoroughly.
Divide between two pot pie plates.
Dollop half the mashed potato mixture on each pie and spread to cover the filling.
Bake immediately or wrap well in foil and freeze.
To bake immediately or when thawed:
Preheat oven to 375F and bake (uncovered) 35 minutes.
To heat from frozen:.
Heat oven to 350°F.
Bake, covered 1 hour, then uncover, raise oven to 400F and bake 10-15 minutes.