"Traditional Irish soda bread is a very simple and quick bread recipe. There are only a few ingredients. Any recipe that includes orange zest, raisins, or any other fruit is not soda bread. Keep in mind that even as late as the middle twentieth century oranges and other fruits were Christmas gifts. I seriously doubt the poor Irish peasants couldn't get oranges to eat let alone use the zest. If you find a recipe that has sugar, eggs and/or baking powder, it is a cake. If it has yeast, it is not Irish Soda Bread either. Salt was difficult enough to come by. And under no circumstances would an Irishman use his whisky in his bread. (Talk about a stereotype!) So, if you are looking for a REAL "traditional" Irish SODA bread, look for the use of SODA only. Ignore anything else. I got this recipe from my grandma. She cannot remember where she got it. She only knows she and her mom made this together when she was a child. She says spoiled milk, even up to the point of curdling, is better than anything else. If you wanted to get as close as possible to the Mother Isle, use a "soft wheat" or Pastry flour. Otherwise, like my cheap arse, an all purpose works just fine. The recipe is so simple I am sure there are hundreds of others like it. So, I am not taking credit for anyone else's idea. It's just a really easy, simple bread recipe. Use it, you'll love it. This recipe is as easy as anything you will find after making ice cubes. Mix all ingredients in a bowl mix, knead only ten to fifteen times, and bake. Don't forget the three to four beers it takes while you wait for the bread to bake."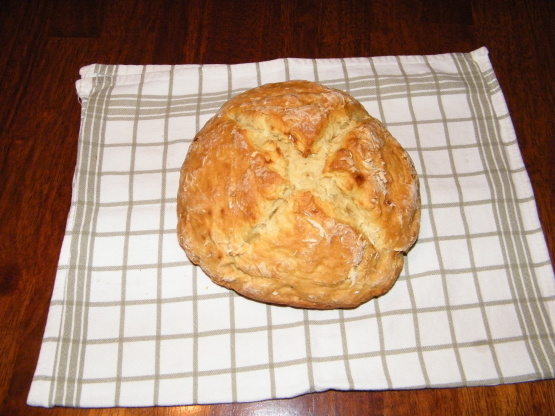 Irish Soda Bread
3 recipe photos
4

cups flour (All purpose, pastry, or wheat. Do not use self rising. It has salt and soda in it already)

1

teaspoon baking soda (It is called SODA bread)

1

teaspoon salt

14

ounces milk (past date even to the point of curdling is okay)
Directions
Preheat oven to 425.
Mix dry ingredients in a large mixing bowl with a fork.
Pour in milk slowly and stir until dough is sticky.
Sprinkle counter top with flour. Knead dough lightly on counter top 10 to 15 seconds ONLY. Too much will make the bread heavy.
Grease bottom and sides of corning ware or bread pan and place dough in middle.
Slice with and "X" across top of dough.
Place lid on top or cover with another pan. Foil works in a pinch.
Bake for 30 minutes.
Remove lid (or any cover from pan) and bake an additional 15 minutes.
Remove from oven.
FOR BEST RESULTS! Place a damp paper towel over the bread when cooling. Some say cover with a tea towel and sprinkle water over the top. I am not into using my tea towels, AKA dish towels, for bread covering. What I do is take two paper towels folded over one another, soak them, wring them out, place the folded towels in a single layer over the bread with a pan holder over that until cooled.
Slice, enjoy!
get the genius kitchen app.
Watch on your iPhone, iPad, Apple TV, Roku, or Fire TV.
Learn More